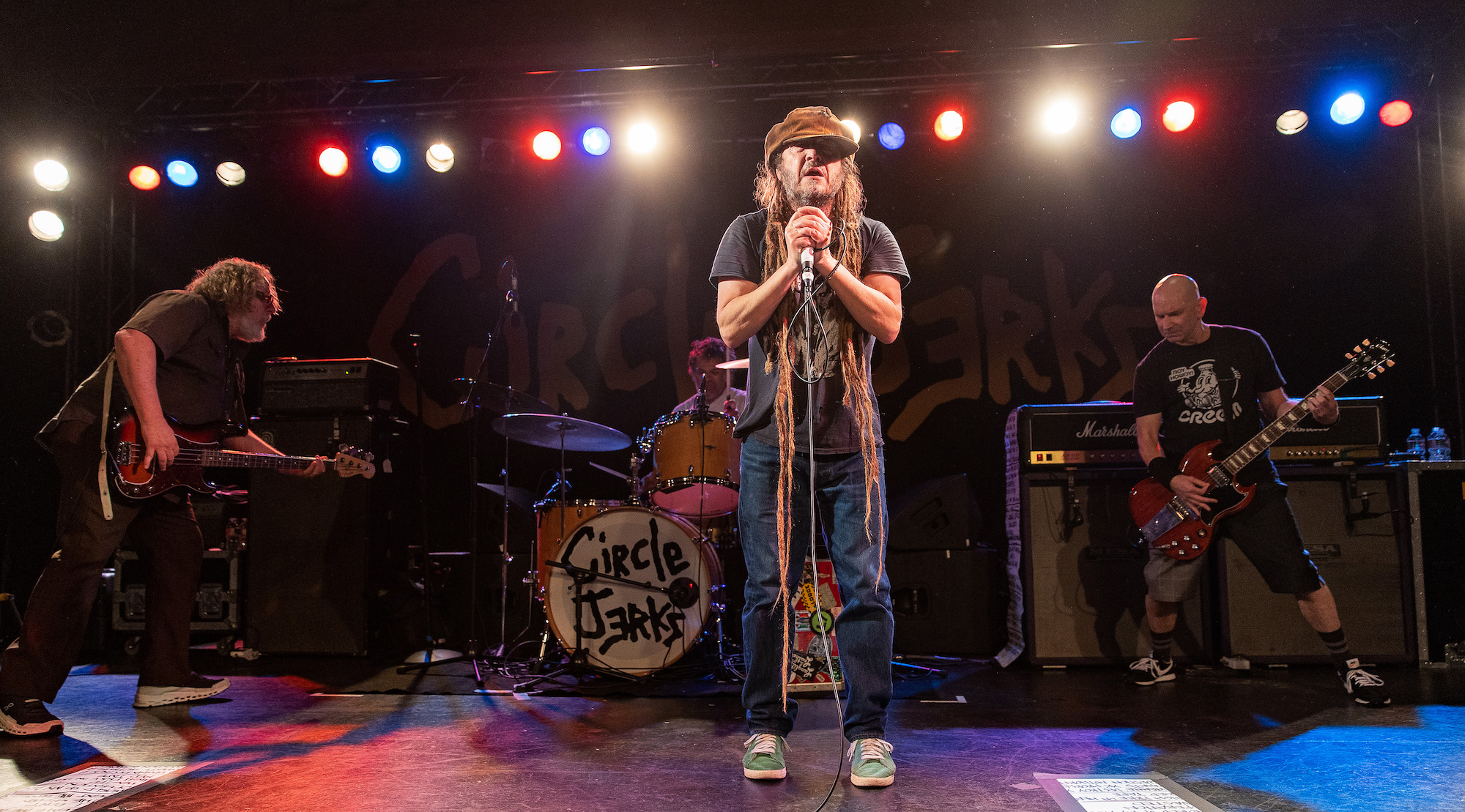 Hours before the reunited Circle Jerks began a February run of West Coast concert dates, drummer Joey Castillo heard again from a San Diego skater kid. The DMs on Instagram were piling up from 12-year-old Desmond Chavez, who was attending his very first big concert that night: Hey, I'm coming down tonight! What time are you on?
Castillo had never met the kid, but clicked on his name to see a young skate-punk in a Black Flag T-shirt, spikey leather bracelet and a denim battle vest covered in patches. He knew what he was looking at: the latest generation of hardcore commandos to rise up around the Circle Jerks, four decades after the SoCal punk rock originators began.
"He's just skating and listening to music. I remember that's how it was for me," Castillo says. The drummer embraced the first wave of punk as a teen and then joined the band Wasted Youth in 1984, signing up with the Circle Jerks in time for their first reunion shows last year. "It's part of growing up as a teenager and figuring out where you belong."
For young Desmond, the show at The Observatory in San Diego wasn't about punk rock nostalgia, but something fresh and relevant to his life in middle school. He is only one of two punk kids on his campus, and he's sometimes called "emo," which doesn't seem to bother him much. His father plays in a local hardcore band and gave his son some survival tips. When the show was over, the kid was sore but ecstatic, and he sent Castillo cell phone pictures and video of his adventures in the circle pit, crowd surfing and pressed against the barricade.
"When the Circle Jerks came on, there was a dude next to me and he just lifted me up and he got me to freaking crowd surf and it was super sick," Chavez says after, describing his first-ever crowd-surfing experience. "I was screaming all the Circle Jerks lyrics while they were playing. It was just super cool."
That scene has been playing out a lot as the Circle Jerks return to action a dozen years after an especially acrimonious breakup. The band began its first North American tour on Thursday night with a sold-out concert at The Complex in Salt Lake City. The tour marks the 40th anniversary of the band's first two albums – the hugely influential Group Sex (1980) and Wild in the Streets (1982) – and will total at least 75 dates before it's over. It represents easily their busiest performance schedule since the early '80s, with many nights already sold out and new dates still being added.
As expected, audiences have been a mix of generations, with a fresh round of young fanatics to mix with punk lifers who witnessed the group the first time around. The band's long absence only partly explains the demand for their frazzled blasts of noise and attitude, including the timeless rebel anthems "Wild in the Streets," "Live Fast Die Young" and "Paid Vacation." The Circle Jerks are part of a certain lineage of punk rock – also including the Misfits and Descendents – fueled by an audience that perpetually regenerates itself. There's always new blood in the mix. (If the Ramones had lived and were still playing, they would of course be attracting new teenage fans.)
Singer Keith Morris has been a witness to all of it, first as the founding singer of Black Flag, then the Circle Jerks and – more recently – leading the hardcore supergroup OFF! He says new followers are born with every generation that watches the classic punk rock documentaries The Decline of Western Civilization and American Hardcore. "It's like, 'I relate to that' – the energy, the excitement, the electricity. There's a certain vibe going on that you don't get if you're watching it on your computer. It's like, 'I wanna be a part of that. I wanna meet some of those people. I gotta be there!'"
The chatter online has included a lot of kids excited about the tour, and some disappointed to miss out. One Bay Area punk lamented an age requirement on Reddit: "I was going to go to the one [show] in Santa Cruz but I'm 15 and it's 16+ ."
Across the country in Orlando, Florida, 23-year-old Elias Cruz got a tattoo to commemorate recently seeing the Circle Jerks and rapper Playboi Carti live for the first time at separate events. The tattoo design was taken from a Carti T-shirt that lifted the Jerks' "Skank Man" mascot, replacing the original cartoon-punk's head with the Atlanta rapper's. Whether meant as a tribute by the chart-topping hip-hop star or a just rip-off, the image led Cruz directly back to the Circle Jerks.
While Cruz had listened to pop-punk when he was much younger, he'd mostly gravitated to hip-hop. Then he went to a Circle Jerks show in December. "I had only been to rap concerts in the past and mostly just in arenas," Cruz says after going a few rounds in the Circle Jerks mosh pit. "Keith Morris still sounds great. The rest of the band still sounds great. It was just a fun environment, screaming out the lyrics with all these people that were way older than me and completely different backgrounds."
At the House of Blues in Anaheim, California last month, Michael Cortez, 25, was up front with a curly bleached mohawk and a Germs armband on his black denim jacket. "I feel like it's music that will never age, no matter how old they are, or however long it's been out," Cortez says while waiting for the band to begin its 33-song set. "It's always going to feel the same, no matter what."
Standing nearby is Caroline Sanchez, 20, with her excitable little sister Elizabeth, 17, both dressed in a gothic shade of black, waiting for the band. "They're all about living life day by day," Caroline says over the noise of a guitar being tuned up. "Punk, including the Circle Jerks, is a community of people loving each other and loving the music. We can just get here and be angry."
Backstage in Anaheim, the Circle Jerks are preparing for the night ahead. The first date in San Diego revealed "some rust, some cobwebs, some creaky joints," Morris says with a grin, but the band is solid. The reunion tour has been long-delayed and rebooked twice because of COVID-19. "Yes, we appear to be older because we can't afford to bring makeup and wardrobe along with us. There's just no room for that.
"We're celebrating the fact that as old as we are, we're still capable of playing the songs," Morris adds, dressed in jeans and an MC5 T-shirt, dreadlocks to his knees. "Now we're not jumping around and acting like some teenage kid with an M80 shoved up his ass. That's not gonna happen. We've lost a few steps."
The band is traveling on a tour bus, a first for the Circle Jerks on a major U.S. tour, after spending most of their career in a van. The bus company has named their bus "Nigel," after the confused Spinal Tap guitarist, which Morris finds fitting.
The Circle Jerks came to a halt in 2011, when preliminary work on a new album collapsed and Morris quit to form OFF! with guitarist Dimitri Coats. He also reconnected with former members of Black Flag to perform songs from that band's history as FLAG. Meanwhile, as the Circle Jerks's hiatus stretched into years, the offers to reunite only grew larger, but the anger ran deep. Morris made it clear he had no intention of reconvening with his fellow Jerks, guitarist Greg Hetson and bassist Zander Schloss.
"I was hoping, but after a while you can't really hope, and you've just got to say, 'Okay, I accept that it's not happening,'" Hetson says, whose long tenure with Bad Religion ended during the same period. "It was fun. We had a good run."
After a full decade apart, and with the album anniversaries coming fast, Morris began to reconsider and finally agreed to reconvene. "I came to my senses that if we can still play these songs, we might as well go out and play them," Morris says. "If you play in a band or you're a musician, you play because that's what you do."
The band recruited Castillo and made plans. But after announcing a reunion tour in 2020, COVID-19 landed in the U.S. and the music world went into limbo. The touring business was frozen in place and remained that way for nearly two years.
The delay turned into a positive for the Circle Jerks, creating space for the band to rehearse like never before.
"We would not be doing what we're doing if Joey wasn't playing with us," Morris says. "He's got a great work ethic. He's got a better work ethic than the three of us. And because of what he does, we're doing what we do."
"We've added songs that we haven't played in a long time," Hetson adds. "When he came in, Joey was like, 'Dude, you should be playing this,' because he is a fan. It was good to inject some of that enthusiasm."
As band members come in and out of the dressing room, taking turns being interviewed ahead of the show, there is both a feeling of casual harmony and of unfinished business between them.
"I'm actually still owed a handful of apologies," Morris says. "But I'm not holding my breath waiting for that to happen. For this to happen, we just had to do it. It's all or nothing."
So far, he says, there have been no troubles between them. "Everything's good."
The reunion is an event in the punk rock world where they've resided for decades, and close friends are coming out. One of Hetson's friends brought his grandkids.
"I don't want to speak out of turn," Schloss says, his bearded head a ball of graying curls, "but people think this is their last opportunity to see us and 'We better like get out there and bring the kids before they die or something.'"
They all still remember when punk rock was almost entirely an underground operation, ignored by the mainstream and considered the latest generational threat to society. Back in the '80s, punk rock wasn't a style choice that could be purchased at Hot Topic, but could instead make you the target of harassment by grown men who felt threatened by spiked hair and Doc Martens.
But in 2022, the Circle Jerks are somehow still standing while many mainstream, chart-topping acts from their original era are long forgotten. "If you would've asked me back then if things would've gone this way with punk rock, I would've told you you're crazy," Schloss says of punk's lasting influence. "There's no way that this was going to become as big of a phenomenon as it is. There's no way that – cut fast-forward to the future – I'm a 60-year-old man doing this at all, much less on the level that we're doing it on this tour." He turns to Hetson. "It's insane, right?"
The Circle Jerks will be on the road for much of this year, while leaving room for other major projects outside the band. Morris has already finished a new OFF! album, due for release in September, and will begin shooting a long-planned movie with that band before then. Schloss has just released his first solo album, the acoustic and deeply personal Song About Songs.
"There might be some stuff further down the road," Morris says of the potential for more Circle Jerks activity after this tour is over. But fans who never got to see them the first time around might not want to let this opportunity pass. The long-term future of the Jerks is wide open and totally uncertain.
Even so, after the show in Anaheim, the band is in good spirits backstage, trading jokes as they wait to board the bus to the next gig. The night before, some fans hurled beer cans at the stage. Tonight, Schloss got hit with a big pretzel. "I take it as a compliment," he says with a shrug, "because someone spent seven or eight dollars for that pretzel."
As the audience files out, some first-timers are pausing to take it all in. Keira Rappelhofer, 17, is a little wiped out from all the excitement, and rests her head on a table outside the House of Blues doors. She was in the mosh pit with her friend, Alexa Lewis, 17. "We didn't get a single break when we were down there," Rappelhofer says, adding that it was her first big concert. "I never have the money to go to these. I didn't even have the money for this one either, but I really wanted to go."
One of the final people out the door is Obi Webber, 26, who drove up from the San Fernando Valley for the gig. He has an arm full of Circle Jerks merch: stickers, a hoodie, a Skank Man action figure. It was his second time seeing the reunited band, after Riot Fest in Chicago last year. He'll be back to see them again at the Hollywood Palladium in May.
"It's really cool to see people are still into it," Webber says. "It's cool that people still show up. It gives a little bit of hope to the punk rock scene."