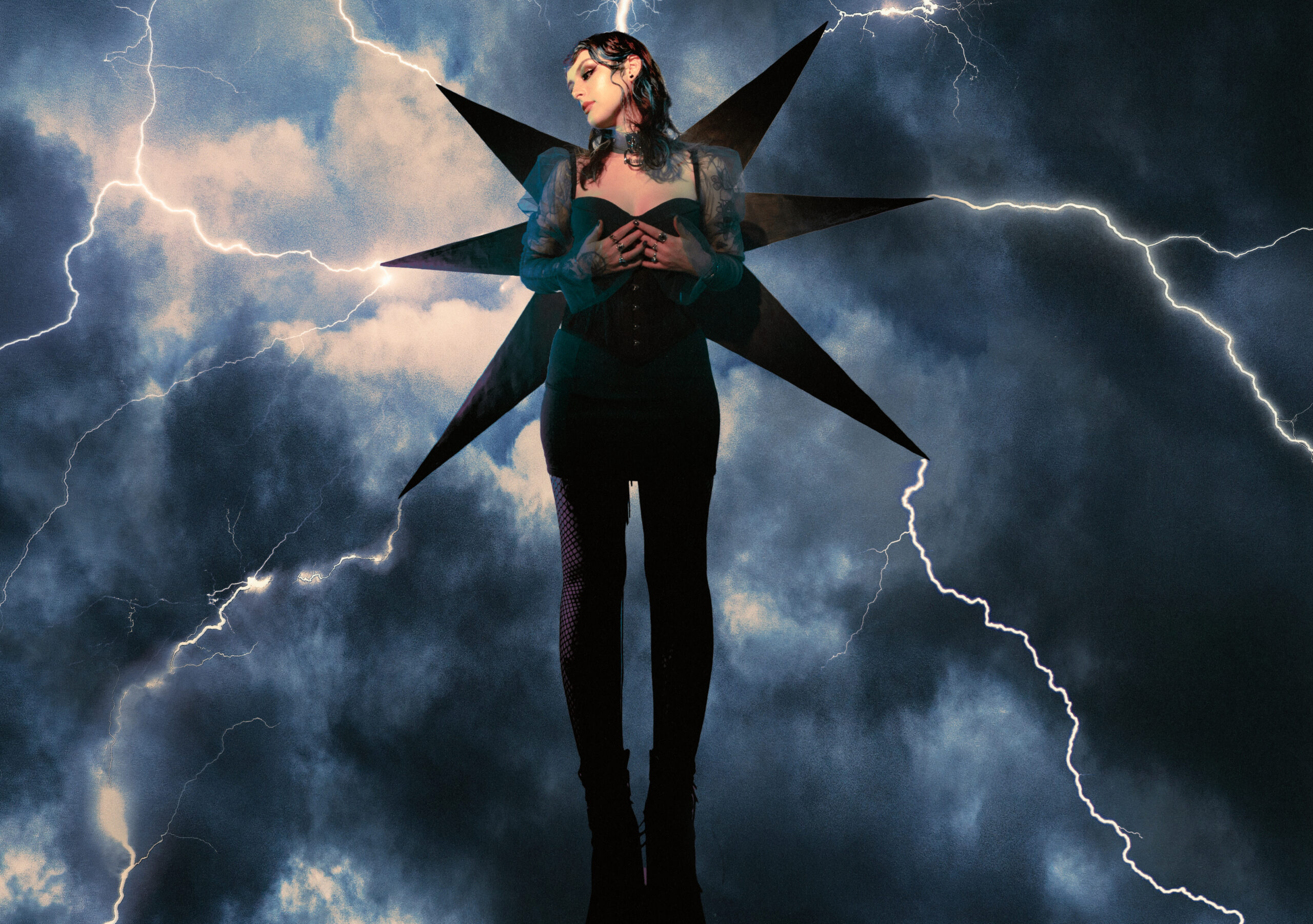 When McKenzie Ellis moved to Los Angeles from Oklahoma City two years ago, it wasn't at all what she'd expected. Not only was the world in the midst of what seemed like an apocalypse-themed episode of Punk'd (things were that absurd), she'd realized the weather wasn't quite her cup of tea either.
Though a selling-point for some people, the sunshine just didn't do for Ellis what dreary skies and soaking-wet sidewalks could. Since high school (and probably long before that), she had acquired an affinity – or, perhaps, a proclivity – for darker milieus. This wasn't a phase or an image enhancer (and it still isn't) but rather a response to the trauma and chaotic life experiences she had long endured.
At age 15, Ellis attempted suicide. Later, she'd become a survivor of domestic abuse and assault. These encounters led her down a road of self-destruction and emotional turmoil, a journey marked by music and songwriting. She even adopted the nickname Mothica after admitting amongst friends that she related to the insect's self-sabotaging urges.
Years later, these tumultuous facets of the singer's life have become the focal point for the 27 year old's unflinching alt-pop boppers. Turning her nickname into her stage name, Mothica is now rewriting the rules for trauma-fueled music and speaking up loudly about subject matter that's otherwise been erroneously considered taboo.
SPIN caught up with Mothica to get her take on mental health and music, exclusively for IMPACT.
SPIN: What intrigues you about singing and writing about trauma, depression, mental health, addiction,?
Mothica: I think in the beginning — like, in high school — I was writing about depression and my parents and all that in a very journalistic way. My songs were like a little diary, and I didn't play them for anyone. Over time, I started writing more metaphorically and lyrically. And then I think just growing up a little bit — you know, being able to sit with my experiences — I started writing about suicide and sexual assault in a more straightforward, open way because so much time had passed. I felt like I'd built some armor around the subject matter. I wanted to tell my story.
What would you say is the hardest part about it?
I would say the hardest thing is thinking that you have to relegate all of your experiences to one song. I went through feeling like that and had to learn that you don't have to just tell the story once. You can have new angles, new outlooks. That took a lot of pressure off me. Monumental life experiences can't be whittled down into one little song. There are so many ways you can share the same story.
If Olivia Rodrigo can talk about the same breakup for an entire album…
You learn that — even if you feel like you've worn out the song or the subject matter — other people are having their own, unique experience with the lyrics. It gives the song a whole new life each time.
Is there anything you wish more people knew or believed about mental health and the stigmas attached?
I've learned through making music about my own experiences — and especially being on social media — that it's very hard to know when someone is going through something. For example, although I get the privilege of writing these songs that provide a window into my world, people can't really understand the scope of what I've experienced. That's why I think a lot of people land on neutral when it comes to mental health. It's really hard to fully understand each other when social media platforms don't or can't present the full picture. What's more, there's this huge hustle mentality out there that promotes toxic productivity — this 'work, work, work' mantra. I've definitely fallen victim to that myself. When you have the odds stacked against you or you have depression or an addiction, your only goal should be staying alive that day, and I think that should be more celebrated. We shouldn't be shamed into doing everything when it's hard to do anything.
Are you involved with any mental health charities or foundations?
My agent, Daniel McCartney, runs a nonprofit called the Continuous Foundation. They provide resources, like therapy, for musicians. I haven't yet done anything with them, but we've been discussing ways in which I can contribute.
What's your ultimate goal with your music?
I feel weird talking about it, but I've always just viewed my music as one way to share my story. I don't really think of myself as a musician. I really see myself telling my story in other ways. I want to write a book one day or maybe a short film. So, I think whether I'm in front of the camera or behind it, I want to do something more.