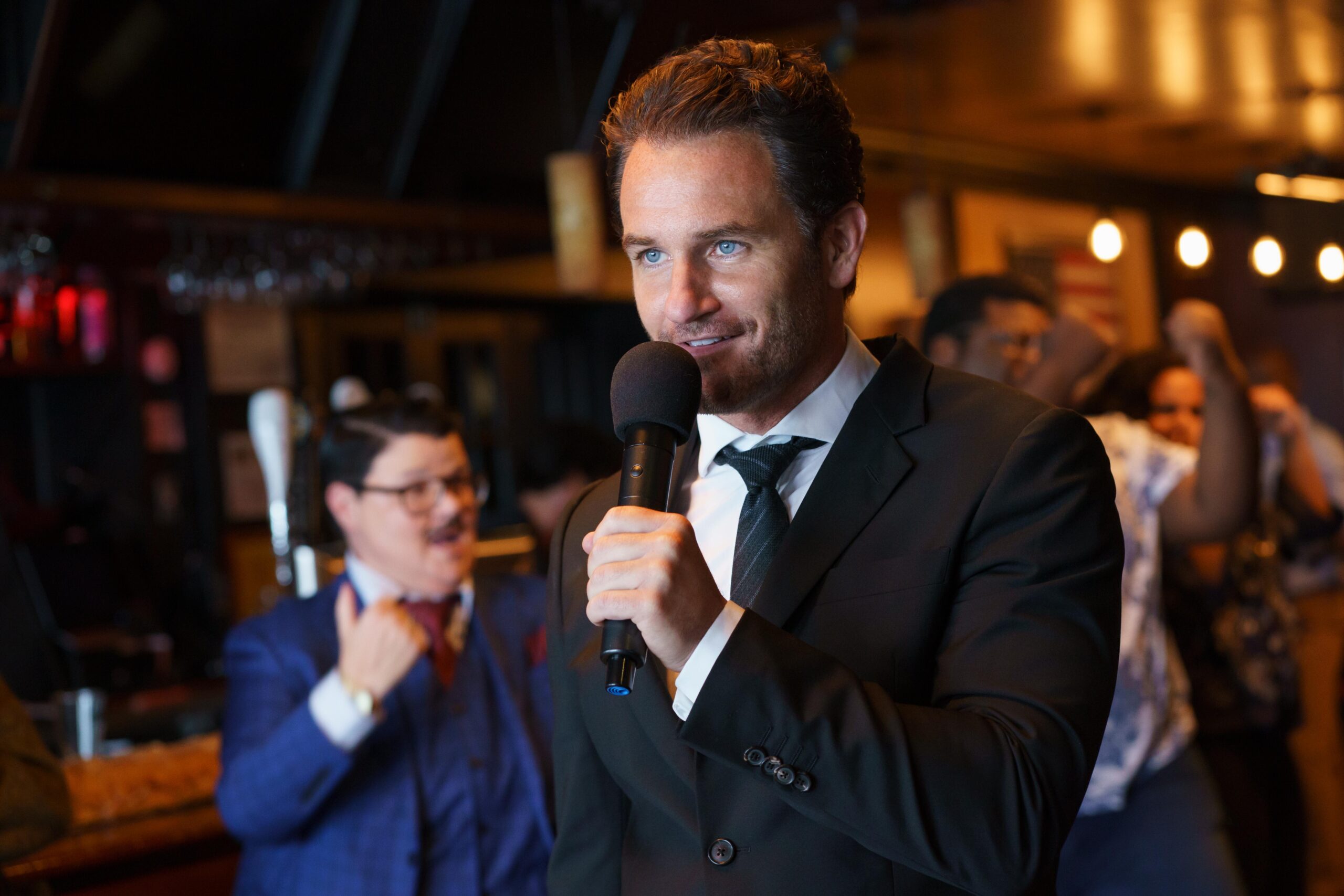 Once upon a New York theatre dream, Kevin Kane and Amy Schumer met at the renowned William Esper Studio's two-year intensive acting program. "That first year, they break you down," Kevin tells me. I personally cast him in one of my plays in the early 2000's. "I feel like…Going through that with somebody, you bare yourself pretty quick. We had a sensibility about each other that we were attracted to in acting class, of like, 'I like their sensibilities. Let's talk about doing stuff. I respect what they think more than anyone, so they'll give me insight that no one else will or tell me the truth like no one else will.' We really became family like that."
Close friends and creative partners ever since, they make success look so easy. All of their collaborations turn to gold: their theatre company (The Collective NY), the Emmy-Award winning series Inside Amy Schumer, feature films Trainwreck (2015), Snatched (2017) and I Feel Pretty (2018), as well as comedy specials Amy Schumer: The Leather Special (2017) and Growing (2019).
Their newest, Life & Beth, is now streaming on Hulu, where Kevin executive produces, directs an episode (Episode 5, "Fair"), and stars as Beth's loveable, scene-stealing, sometimes-coke-sniffing boyfriend Matt.
According to Kevin, work for Life & Beth started several years back when Amy was pregnant and on tour, poignantly captured in the three-part documentary Expecting Amy. "I had a few drinks the night before, got on the plane, went to New Orleans [to meet Amy]… totally hungover… got car sick on the way to New Orleans, rang her doorbell, and then immediately went to the front lawn and threw up," he laughs. Schumer had a condition called hyperemesis gravidarum, which, as the documentary portrays, causes her to vomit consistently throughout her pregnancy. "She thought I was doing it on purpose, making fun of her because she was throwing up… We were both really laughing at that, the fact that we were both heaving before this process started."
After kicking off Life & Beth in the writers' room in late 2019, and ready to shoot by spring 2020, they were delayed because of lockdown. Filming then started in early 2021. "We shot three scenes from an episode–all the David Byrne stuff was just one day," he recalls. "It was like you're sitting on your ass being ruled by your three-year-old for a year, and then all of a sudden, 'You got to direct David Byrne all day, if you're not doing anything.'"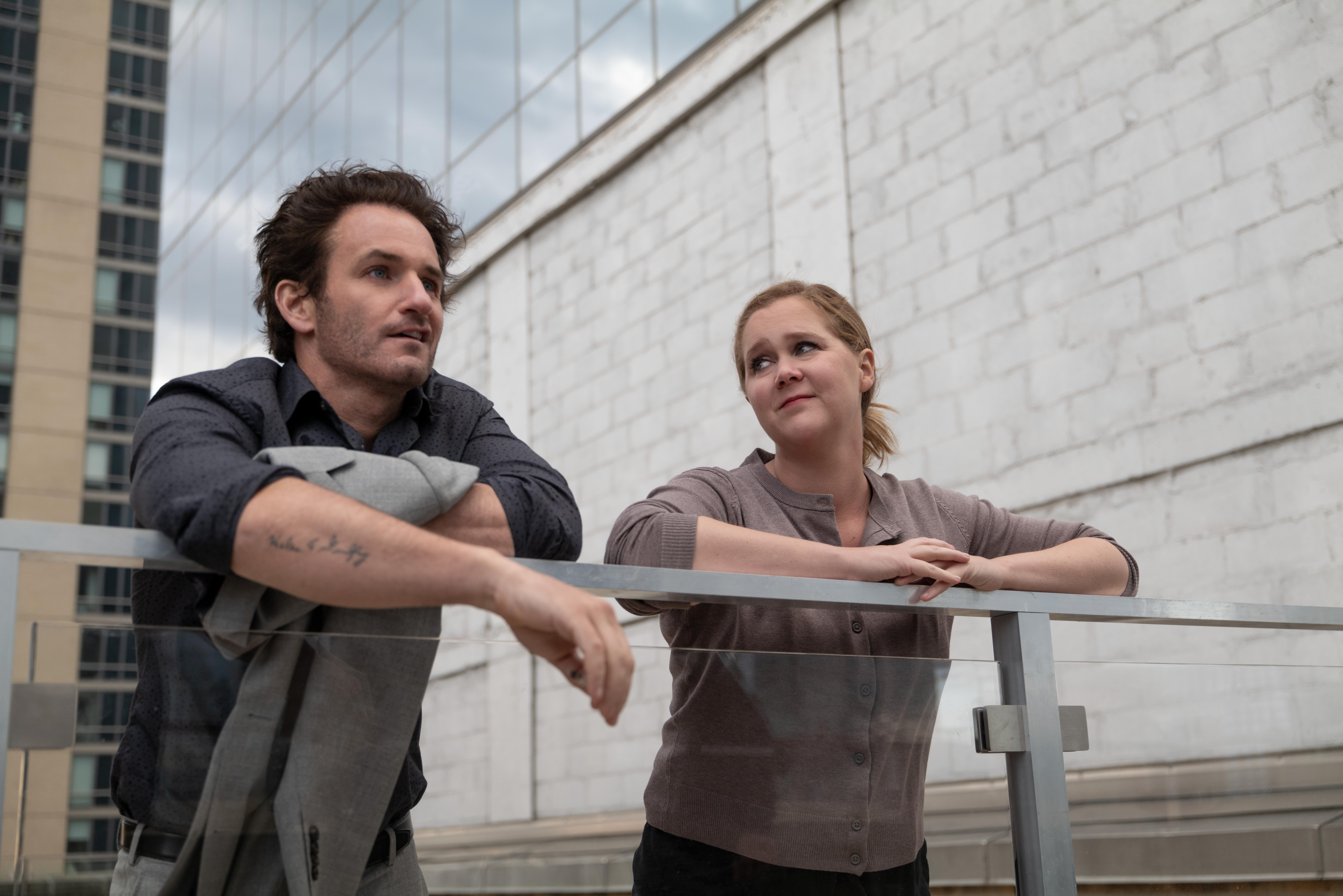 Kevin and Amy in a scene from "Life & Beth". Credit:: Marcus Price/Hulu
They'd had Byrne on their podcast, 3 Girls, 1 Keith ("Performance with David Byrne", April 2020) during American Utopia. "Amy got obsessed with the show, and for good reason, and was making sure as many people saw it as possible that she knows, so she could talk to them about it," Kevin says. Byrne plays Beth's doctor on the series, awkwardness intact, and might be the cameo appearance of the year. "Just give him one idea and you don't have to do anything but watch."
In one of the most memorable scenes (Season 1, Episode 2: "We're Grieving"), Kevin's character Matt proposes to Beth in a thoroughly malformed serenade/flash mob, singing proposal-themed, off-tune lyrics to Madonna's "Like a Virgin," a deal they were able to establish with help from Schumer's relationship with Madonna, having opened for her at Madison Square Garden years back. "Amy has a particular evil joy about making me do things I'm uncomfortable with and watching me suffering through it," he says, adding, "Oh, it was the most terrifying thing I've ever– It was horrific." (Side note: It's hilarious.)
While Matt adds some laugh-out-loud absurdity, Life & Beth is more touching than anything, led by Amy's deeply layered performance, and plot lines that reflect life's confusing (and relatable) transitional spaces. Music supervisor Joe Rudge (Room, Blue Valentine, The Big Sick) and composer Ray Angry were amongst the heavy-hitters behind the score. In a particularly hard-to-watch scene, in which Beth is dating a hoarder and decides to have sex with him, Bridget Everett sings a stunning rendition of "Blue Bayou".
"We start thinking about scenes with songs in our heads," Kane says.
As always, they keep things personal by casting the people they know and have worked with for years. In Life & Beth, some of the more sensitive plot points aren't just handled with care, they're inspired by real life, as is the case with Beth receiving the call that her mother has suddenly died. The idea to work the call into the script was Amy's, but it harkened back to a deeply personal experience for Kevin. "Amy's mother's alive and well," he says, "but I got that call about my mother. When we were dealing with how you deal with that kind of phone call and that kind of stuff, we talked about that a lot." He tells me that in 2001 his Philadelphia-born mother came to see the play that Kevin was in that I had written, and she died shortly after the play had closed. That was the only time she'd seen him perform. "Your head goes in reassessment stand for years after you get that phone call."
I caught up with Kevin before he flew out to view Schumer's Oscar standup, where she's co-hosting this Sunday's event with Regina Hall and Wanda Sykes ("She just wants me to come out and be there and watch.") On April 4 they start work on five special episodes of Inside Amy Schumer for Paramount+. When asked if he would ever sing on camera again, he responds: "Yes, if it made sense. I'll take the beatings once for Amy, if it's not purely for Amy's joy," he laughs.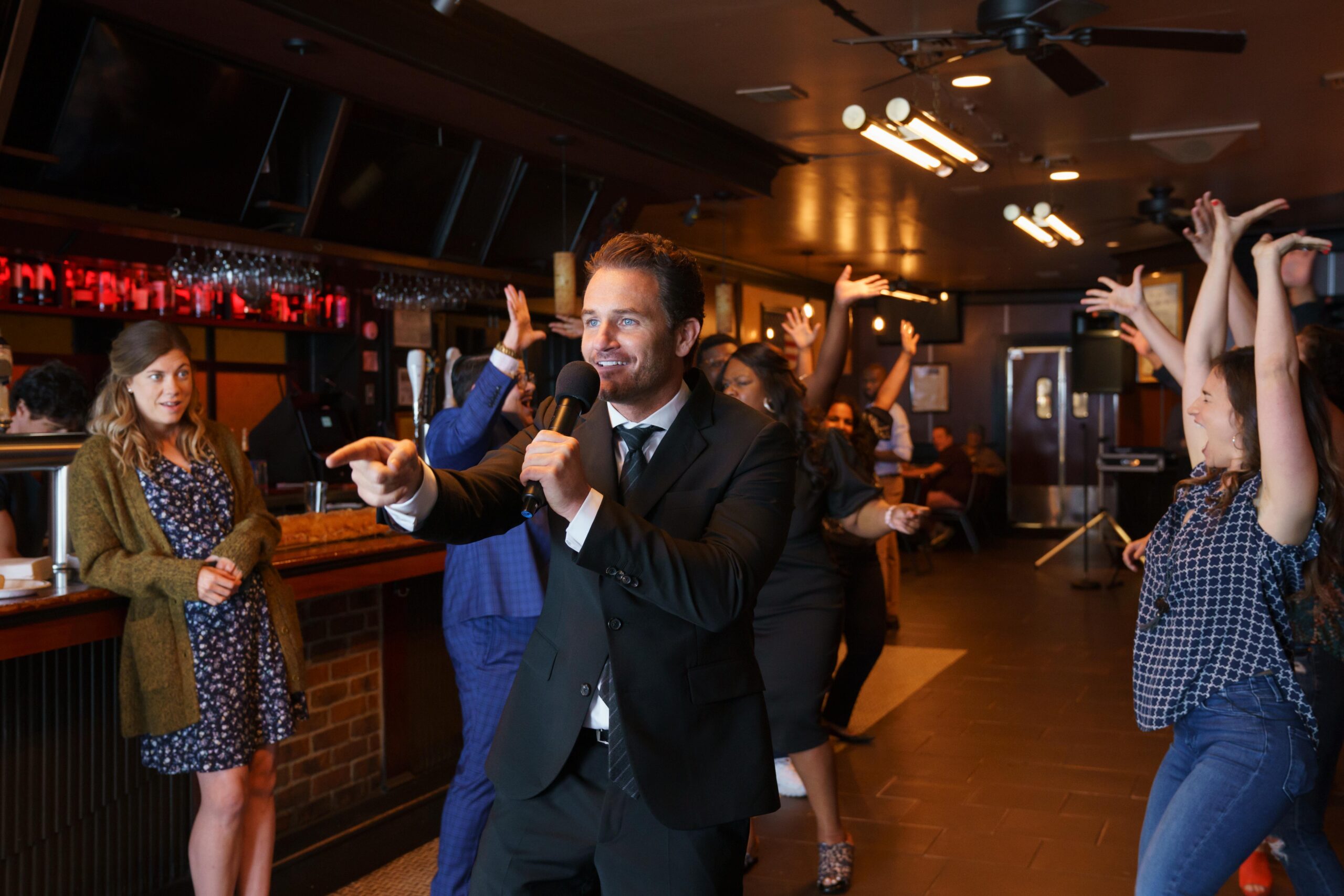 Credit: Jeong Park/Hulu
SPIN: Do you ride horses? In Life & Beth Episode 3, when Matt shows up on horseback, that just looks really hard if you weren't a rider.
Kevin Kane: Yes, charging up the hill and playing drunk. For a while, you have to improv with the horse, whatever the horse is going to do. It was also like 105 degrees that day, so he was getting a little ornery. We spent mid-afternoon shooting, and that horse was just over it.
Then we handed it to Michael [Cera], and Michael had to walk it through that scene with Amy — [chuckles] The horse really wanted to go home, so poor Michael had to put up with the horse there.
If you could sum up the Matt character in one line, what would you say? I know what I would say.
What would you say?
I would say he's a really likable asshole. Is that fair?
I think the reason his name was Matt is because of all the women in the writers' room, the most common guy like that was named Matt for them.
I just felt that he is a person very much like Beth, but deals with it in the complete opposite direction. There was a codependency there where I'll stand out front, she can hide behind me. When we're home [in the show], I can be me and tell you what I'm really thinking and feeling, stuff like that.
That's a very guy way of viewing it.
Yes. [Laughs.]
I just think he's a narcissist—
Totally, yes, tunnel-visioned by his own insecurities and things like that.I thought that narcissist part went without saying.
Credit: Marcus Price/Hulu
What's the special sauce that makes you and Amy work together so well?
She always says that we just know where all the bodies are buried. She's joking about Matt. She goes, "I'm a huge piece of shit." She goes, "but Kevin's also a huge piece of shit like me and no one knows that, and so whenever we do something together, I want to make sure everyone sees that." [laughs]
I think the biggest lesson we've learned is usually, you're always thinking there's that one door, that one audition or whatever it is to get you in and get you moving, but it's really just the community you put together. That's the way we always worked.
We started a theater company. We would do fundraisers for this theater company, which were comedy fundraisers because she was doing stand-up, it was her gig. It was like, I would bartend and she'd make a few bucks doing stand-up but her focus was somewhere else. She started blowing up… bringing these stand-up comedians in there to do fundraisers, to do serious plays. We just started realizing, there was an audience there, we're like, "Let's start using actors in front of this audience for this comedy show fundraiser." We would do it at the Actors' Temple and people would cover it, and a couple of a hundred people would be there by the time we would do it once a month.
Then the sketches became bigger–we didn't call them sketches, they were short comedy plays because how dare you call them a sketch.
It just really got us in a habit of just making things on the fly. When I think back to it, those shows came in such an Amy way because she'd just bullshit her way into getting us a beer sponsorship. We had a beer sponsorship, but we didn't have the show yet. [laughs] The guy who ran it–it was an old New York beer, Genesee Cream Ale–he was so mad that all the NYU kids back then were drinking Pabst Blue Ribbon or whatever. He was like, "My beer tastes like that, why aren't they–?"
He had hired Amy to do stand-up comedy at his wife's garden party or something. She just bullshits him, she's like, "Hey, we have the hottest show downtown, you should sponsor it, and then we can get your name out there a little more that way to that kind of crowd you were talking about." She shows up at our next theater company meeting, she goes, "There's 30 free cases of beer coming, we've got to figure out a show."
I would love more examples.
We're breaking episodes and the writers are breaking episodes, and we're trying to figure out how to culminate a flashback story. She was having problems with her back and she took an edible and went to get an MRI. She was pretty much on an edible and did some thinking in the MRI. And then—Boom! She comes running out of it, and wants to change the episode, "We're going to do it this way…
Sometimes with casting, she's like, "I have this crazy idea, let's–" after everything's in place, and we're like, "Oh, we have to blow this up again." She never lets procedure or  the norm stop her if she thinks there's a better idea. She'll swing and miss and not be afraid to do it.
Why do you think our readers should watch this?
I feel like there's no one that knows me better than Amy, except maybe my wife. Maybe. And I would say the same thing about her with me. I guess after 15 years of being that close — it wasn't through examining things in her journal in her childhood — I realized our timeline had a lot of similar events in common.
I think it just goes to show when you tell your story, very specifically, a lot of people watching them think it's their story, no matter how obscure or weird it could be. I think that's what I hope most people take away, that they self-realize their own story and give themselves a break.