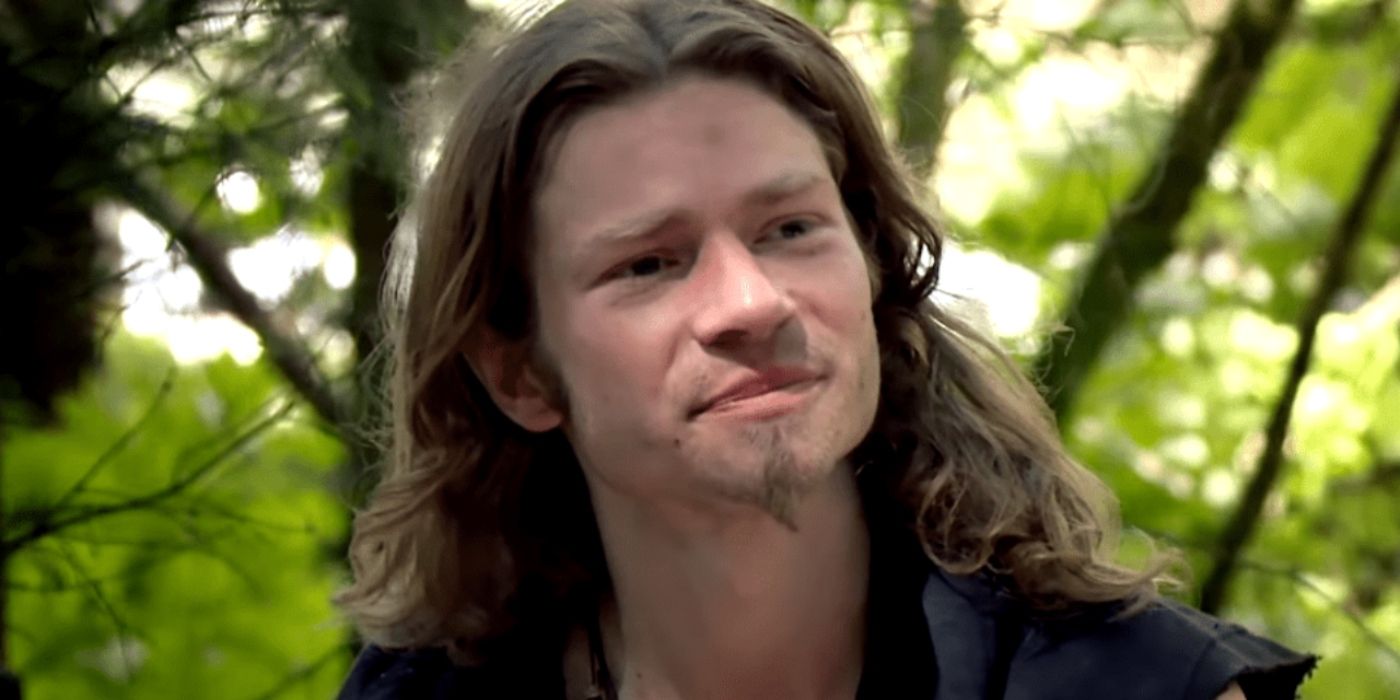 Alaskan Bush People fans were surprised to hear that Bear Brown was recently arrested after having a dispute with his wife, Raiven Adams.
Bear Brown from Alaskan Bush People has found himself in trouble with the law after being arrested on an alleged domestic violence charge. The star of the Discovery Channel show has been living his life near the family ranch with his wife and son. Supporters of Bear are not sure exactly what happened but they are hoping to find out the details soon.
The last year has been extremely hard for the Wolf Pack as they lost their patriarch Billy Brown after he suffered a seizure in February of 2021. Before his death, the Browns also had to navigate their once-thriving ranch after the Palmer Wildfires, which devastated their mountain homestead. Bear has done his best to move past the tragedies that have plagued his family. In January, he revealed to fans that he had tied the knot with Raiven Brown, and the two were looking to move closer to the mountain. The news of a fight shocked fans, who thought that the couple had worked through their issues.
SCREENRANT VIDEO OF THE DAY
Related: Alaskan Bush People: Bear Brown Plays Dress Up As The Joker
News broke that the self-proclaimed "king of extreme" was arrested on March 11 near his home. While there is much speculation, some facts have surfaced. Bear, whose real name is Solomon Isiah Freedom Brown, was arrested on March 11 on Assault Fourth DV charges. He was brought to the Okanogan County Jail. He resides in Washington State, where the law defines fourth-degree assault as an attempted battery on another person (which would allegedly be Raiven in this case), which causes contact that a reasonable person would find offensive. To receive a fourth-degree assault charge for domestic violence in Washington, the victim must be part of a family household.
The report also revealed that Bear tried to take Raiven's phone away from her and "put her on the ground." Raiven spoke with the officer and shared that her husband was acting "crazy." The argument occurred while the couple was moving between residences and into a camping trailer. According to the mother of one Raiven, she moves between the two premises frequently. The report stated that Bear began to curse at his 23-year-old wife, asking her to leave the trailer. Raiven shared that she needed to be there, "due to all of their stuff being in there." Raiven said that she did not feel comfortable letting Bear into the trailer. The document stated that Bear allegedly held her down on the bed as he tried to take her phone.
The police officer on duty did not observe any marks other than the scratch on Raiven's finger and noted that there weren't any markings under her clothes. After being arrested, Bear spent the weekend in jail and was released without bond. Bear has a court date on April 26, 2022. According to police, via the report, the Alaskan Bush People star had no alcohol or drugs in his system and did not strangle or choke Raiven.
Next: Alaskan Bush People: Bear Brown Posts Unsettling Karate Video
Source: Okanogan County Jail
90 Day Fiancé: Mike Berk Says He's 'Not Okay' On IG After Ximena Split
About The Author Jennifer O'Brien (3421 Articles Published)
Jennifer is an avid Reality TV follower and is fluent in all Real Housewives drama along with the ups and downs of the 90 Day Fiance sagas. When she is not writing she enjoys traveling the world in search of the best beaches! Jennifer has been writing for over 15 years and would like nothing more than to have a proper sit down with the women of RHONY to 'Make It Nice.'