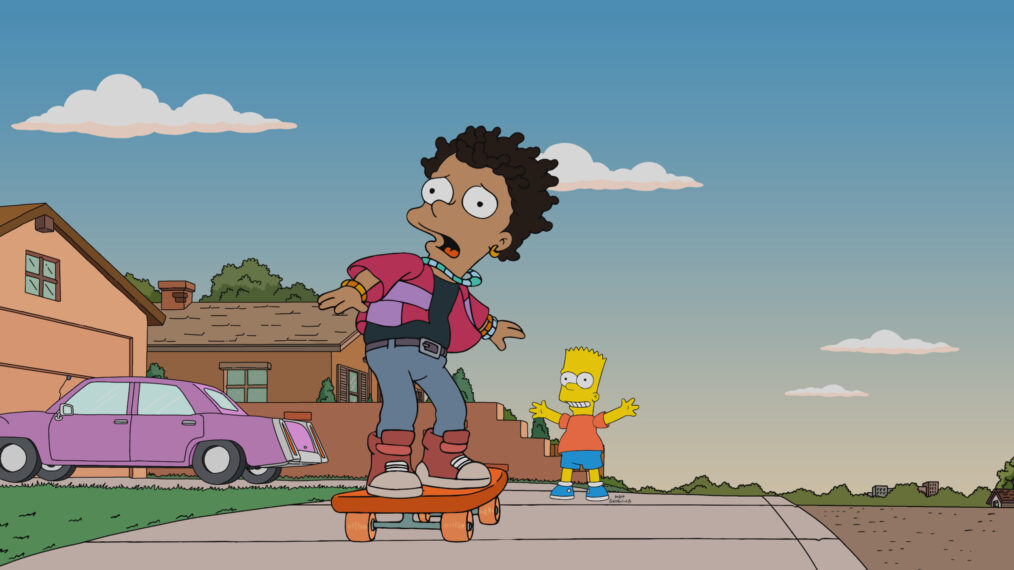 A couple "very cool" characters are coming to The Simpsons in the March 20 episode.
The Weeknd (as Abel Tesfaye is known professionally) voices two characters — a famous kid influencer who owns an ultra-cool skate wear brand and his father — in "Bart the Cool Kid," and TV Insider has an exclusive first look at the guest spot. Check out the photos above and below.
THE SIMPSONS © 2022 by 20th Television.
"The Weeknd is a huge animation fan so he reached out to us, which we were super excited about," the episode's writer, Ryan Koh, says. "He's obviously a very cool human, so he seemed like a natural fit to play a very cool boy and his very cool dad. The two characters he plays are impossibly rich, super-confident and self-assured, and we hoped that since the Weeknd is an impossibly rich music megastar, he would also be confident and self-assured, and indeed he naturally gave off that vibe when we recorded him."
In the episode, after Bart (voiced by Nancy Cartwright) befriends the influencer, Homer (Dan Castellaneta) leads a rebellion of loser dads against them. "Bart's new friendship with a hip celebrity is going to make him objectively, undeniably cool. Homer feels left behind and jealous, so he will start wearing skatewear to compensate. He will lead an uprising of his fellow middle-aged loser dads to wear 'crazy clothes they don't understand' in order to feel young and cool again," Koh previews.
"For the middle-aged loser dads on the writing staff, feeling old and lame comes naturally, so Homer's anger and despair came pouring out of us easily," he adds.
The Simpsons, Sundays, 8/7c, FOX