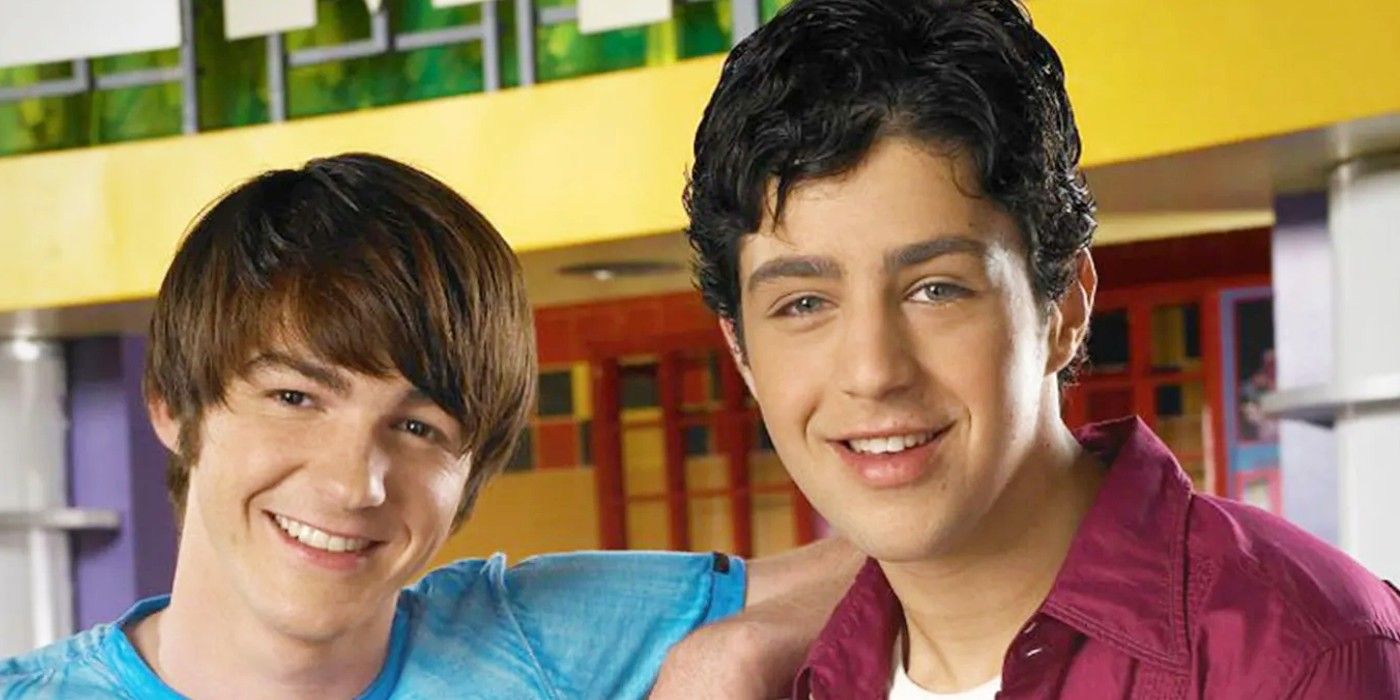 Josh Peck weighs in on what happened with his feud with his former costar Drake Bell after the latter was not invited to the former's wedding.
Josh Peck spoke on the status of his friendship with former costar Drake Bell following the latter's infamous invitation snub from the former's wedding years ago. The two actors, known for starring on the titular Nickelodeon series Drake & Josh, had a publicized feud in 2017 that lasted for six months until it was seemingly resolved. However, that appears not to be the case, as Peck says he still doesn't view Bell as a close friend.
The two actors are best known for playing stepbrothers on the hit Nickelodeon sitcom from 2004 to 2007. Due to their on-screen chemistry and despite their careers going in different directions over the years, it was believed that Bell and Peck were also just as close in real life. They even occasionally reunited on screen. These hopes were dashed when, in 2017, it was revealed online that Bell was not invited to Peck's wedding to Paige O'Brien, leaving Bell to call out his on-screen stepbrother in a now-deleted tweet.
SCREENRANT VIDEO OF THE DAY
Related: How I Met Your Father: Is Drew The New Victoria?
Peck recently appeared on the podcast BFFs with Dave Portnoy and Josh Richards where he opened up about his rift with Bell. He acknowledged that while the series they starred in together was special, they weren't like brothers in real life. Peck admitted that he and his former costar barely kept in contact following Drake and Josh's ending. But then he revealed that Bell had texted him the night of this wedding:
"Cut to, I'm getting married that night and I see these text messages from him, like cursing me out, coming for me. On the night of my wedding… I don't care about me, it's, whatever, I signed up to be a public person. It is what it is. But here's my wife, who's like, getting torn down on the Internet and I'm like, she's private and she just got married."
Peck then adds what happened before his reunion with Bell at the 2017 MTV Video Music Awards:
"I go up to him—and this might be the most Sopranos thing I've ever done, I look at him and I go, 'Go apologize to my wife right now," he said. "And he goes, 'OK' and he like, made a beeline for my wife and I see him do like, this whole five-minute performance of an apology and I was like, 'Go apologize to my wife or something bad's gonna happen."
Peck was understandably upset about the harassment his wife had received online which had further added to the rift. Other than Peck commenting on Bell's child endangerment charges in 2021, there has not been much Drake & Josh talk from the Josh side of things until his podcast appearance. Although they hugged it out, it appears the friendship has still not been as strong as fans hoped for.
Diehard fans know that the hit Nickelodeon series The Amanda Show was what gave Drake Bell and Josh Peck their stardom as kids even before getting a successful show of their own. It is understandable to believe that their friendship would be stronger than ever as adults, given their long history. For Bell, he clearly felt much more strongly about it than Peck did, which is why he would be upset about not being invited to Peck's wedding. For Peck, he just didn't feel the same connection. There will always be the show Drake & Josh, but in real life, there is just Drake and there is just Josh.
More: How iCarly's Revival Avoids Falling Into A Classic Hollywood Trap
Source: BFFs with Dave Portnoy and Josh Richards
The Boys Season 3 Trailer Secretly Reveals How Powerful Soldier Boy Will Be
About The Author
Paul Zecharia (16 Articles Published)
Paul Zecharia is an Entertainment News Writer for Screen Rant. Born in Canada and grew up in Michigan, Paul has had a lifelong love for all things film and television. He currently resides in Los Angeles where he's spent years working in several productions both behind the scenes and in front of the camera. When not working on set or writing, Paul enjoys photography, hiking, and cosplaying.