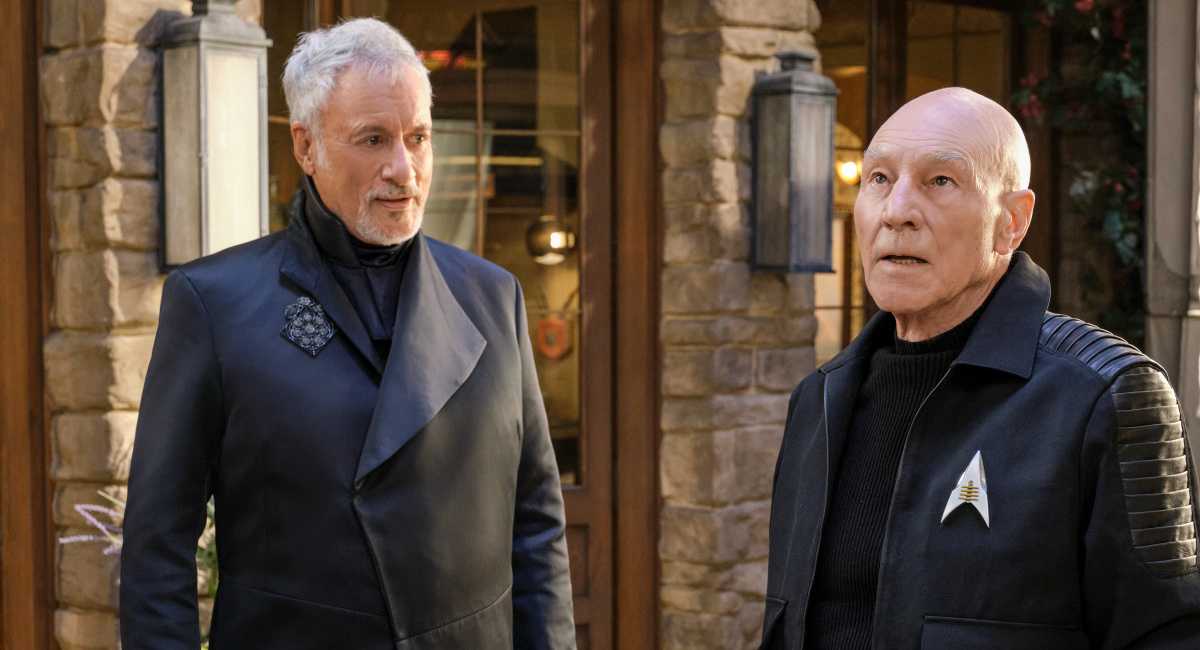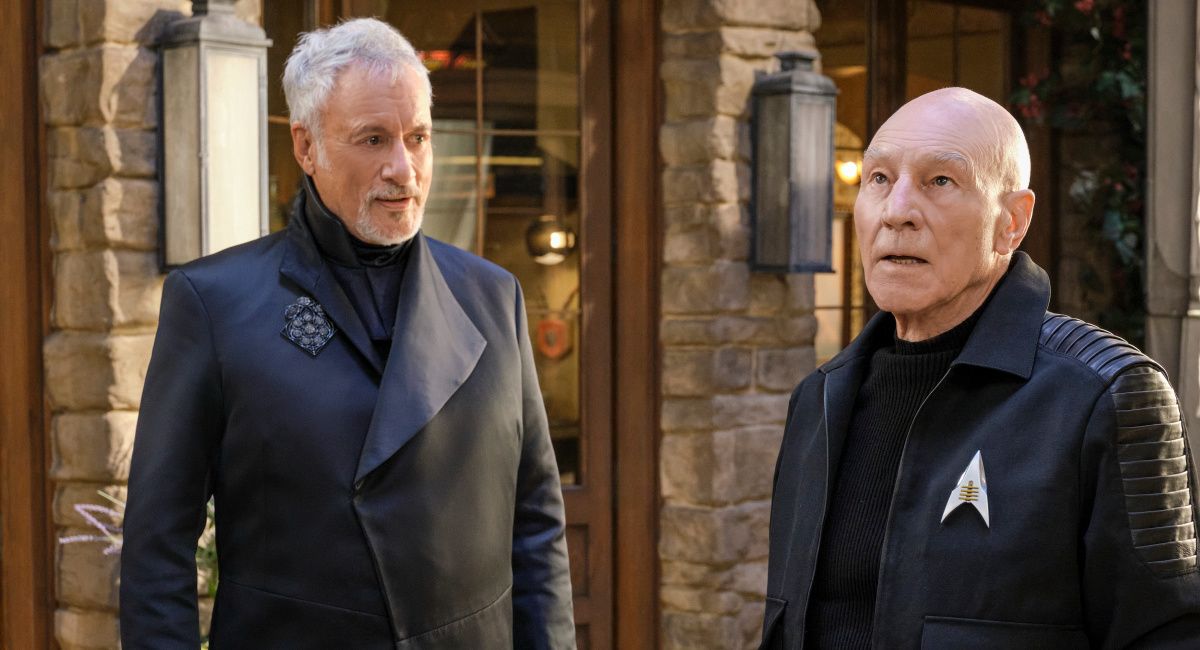 Sir Patrick Stewart as Jean-Luc Picard and John de Lancie as Q of the Paramount+ original series "Star Trek: Picard.' Photo: Trae Patton/Paramount+ ©2022 ViacomCBS. All Rights Reserved.
In what constitutes a good news/bad news situation for fans of Paramount+ series 'Star Trek: Picard', the streaming service has announced that more of Patrick Stewart's former 'Star Trek: The Next Generation' castmates will appear in the third season of the sci-fi series. The bad news aspect? That will also serve to wrap up the show.
'Star Trek: Picard', which features Stewart as the venerable former Captain (now Admiral) Picard as he deals with new adventures and threats past, present and future, has not been shy in keeping connective tissue with the 1980s and 1990s series, even as it charts its own course.
Former 'TNG' stars Jonathan Frakes and Marina Sirtis guest-starred in Season 1 as Will Riker and Deanna Troi, while Brent Spiner's Data (and other characters brought to life by the actor) formed a key part of the storyline for that season.
Now, though, Paramount+ has used "First Contact Day" (aka April 5, the day in 2063 in which humans encountered the Vulcans, as seen in 1996 movie that featured the 'Next Generation' characters battling a threat from the Borg), to announce that more of that show's cast will be back to see their old commander.
Frakes, Sirtis and Spiner will all return, joined this time by LeVar Burton's Geordi LaForge (former Chief Engineer of Picard's Enterprise), Gates McFadden's Dr. Beverly Crusher (who had an established connection to Picard before serving on the ship) and Michael Dorn's Worf (a Klingon raised by humans who was Chief of Security on board for years).
How exactly they will fit into the plot for Season 3 is unknown at this point, but there are subtle clues about legacy in the teaser video put out by the streaming service to mark the announcement. And it looks like Riker in particular will be back in action in a big way.
"I remember watching the premiere of 'Star Trek: The Next Generation' almost 34 years ago with my father like it was yesterday. It was the spark that ignited my love for science fiction," says Terry Matalas, Season 3 showrunner and executive producer. "So, it's most fitting that the story of Jean-Luc Picard ends honoring the beginning, with his dearest and most loyal friends from the U.S.S. Enterprise. It would be an understatement to say that giving these characters a proper send-off is an honor. The entire 'Picard' team and I can't wait for fans to experience this final, high-stakes, starship-bound adventure in Season 3!"
'Picard' Season 3 wrapped filming last month, having kicked off production shortly after Season 2 shot its final scenes. That season is still midway through airing, and brings back another 'Next Generation' favorite, as John De Lancie's troublesome alien Q is part of the storyline.
Seeing the crew of the Enterprise-D properly back together will certainly help us deal with the disappointment of learning that 'Picard' is coming to an end. The announcement made no mention of when the season might start, but for now you can find 'Star Trek: Picard' releasing new episodes every Thursday on Paramount+, with the season finale due May 5th. Sir Patrick Stewart as Jean-Luc Picard on the Paramount+ series 'Star Trek: Picard.' Photo: Trae Patton/CBS ©2019 CBS Interactive, Inc. All Rights Reserved.