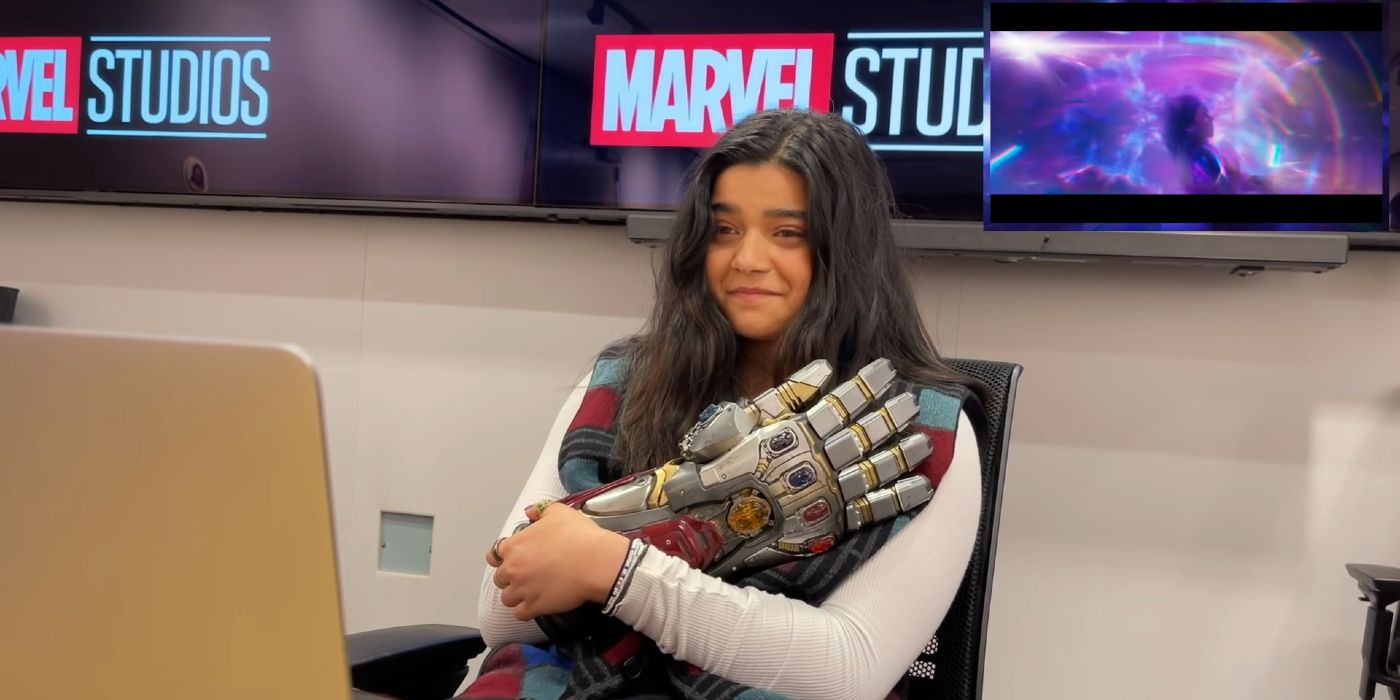 An adorable video shows Iman Vellani, the star of Ms. Marvel, reacting to seeing the trailer to the upcoming Marvel live-action Disney+ show.
Iman Vellani gives an excitable reaction to the trailer for the upcoming Ms. Marvel series in an adorable new video. The show, led by Vellani, will be the next new Marvel series to make its way to Disney+ following Oscar Isaac's Moon Knight. Ms. Marvel will introduce audiences to Kamala Khan, aka Ms. Marvel, the latest addition to the Marvel Cinematic Universe. Along with Vellani, the series stars Mohan Kapur, Aramis Knight, and The Walking Dead's Matt Lintz.
Ms. Marvel will focus on Avengers superfan Kamala, who finds herself having an identity crisis after receiving superhero-level powers of her own. Despite the trailer showing Ms. Marvel will be taking liberties with the hero's powers compared to those seen in the comics, fans have been overwhelmingly receptive to the trailer, with praise, in particular, for Vellani's take on the character. While the trailer revealed little about the series' storyline, it hinted that Ms. Marvel will, tonally, be a departure from previous Marvel shows, leaning toward a fun, coming-of-age origin story for one of the franchise's newest heroes.
SCREENRANT VIDEO OF THE DAY
Related: Ms. Marvel's Superpower Retcon Is More Bad News For Agents Of SHIELD
In a video shared by Marvel Entertainment's Youtube channel, Vellani seems just as excited as fans are at the reveal of the trailer. Sporting a chunky Infinity Gauntlet replica, Vellani shares her genuine reaction to the trailer, the star is full of glee at seeing her Ms. Marvel vision come to life. In a particularly adorable moment, Vellani echoes her character, replying "a superhero" when Kamala Khan is asked in the trailer if she knows what she is. Watch the video below:
Click here to watch the video on Youtube
The trailer likely marks the first time Vellani has seen many of the scenes from the show in their intended, polished form, and seeing her genuine reaction is a heartwarming moment. The show will mark one of the actor's first major screen roles, and the public's positive response to the trailer indicates Vellani is on the right track to make a name for herself with her Marvel debut. But more than anything else, Vellani looks like she's having a great time, which is perhaps the best way to approach a series like Ms. Marvel.
Although Ms. Marvel is very much Kamala's show, there's always a chance of a cameo or two from her big-screen counterparts. As well as introducing the MCU to Kamala and her supporting cast, the show will serve to set up The Marvels, meaning Vellani will definitely work with Brie Larson in the Captain Marvel sequel, making a potential Larson cameo in the series a possibility. Of course, before audiences find out if this comes to fruition, Marvel aficionados will have Moon Knight, which promises to be a much darker series than Ms. Marvel's light-hearted adventure. Ms. Marvel's 6-episode series begins streaming on June 8th.
More: Ms Marvel Nails The MCU's Phase 1-3 Hero Problem
Source: Marvel Entertainment
Doctor Strange in the Multiverse of Madness (2022)Release date: May 06, 2022
Thor: Love and Thunder (2022)Release date: Jul 08, 2022
The Marvels/Captain Marvel 2 (2023)Release date: Feb 17, 2023
Guardians of the Galaxy Vol. 3 (2023)Release date: May 05, 2023
Ant-Man and the Wasp: Quantumania (2023)Release date: Jul 28, 2023
Black Panther: Wakanda Forever/Black Panther 2 (2022)Release date: Nov 11, 2022
Stargirl Season 3 Casts Green Lantern's Son Obsidian
About The Author Richard Banks (112 Articles Published)
Richard Banks is a 30-something OAP from the Midlands, United Kingdom. In the daytime, he sells skips, but he moonlights as a freelance writer for Screen Rant, focusing on whatever he's allowed to get his hands on. He lives with his spooky girlfriend and even spookier cat.