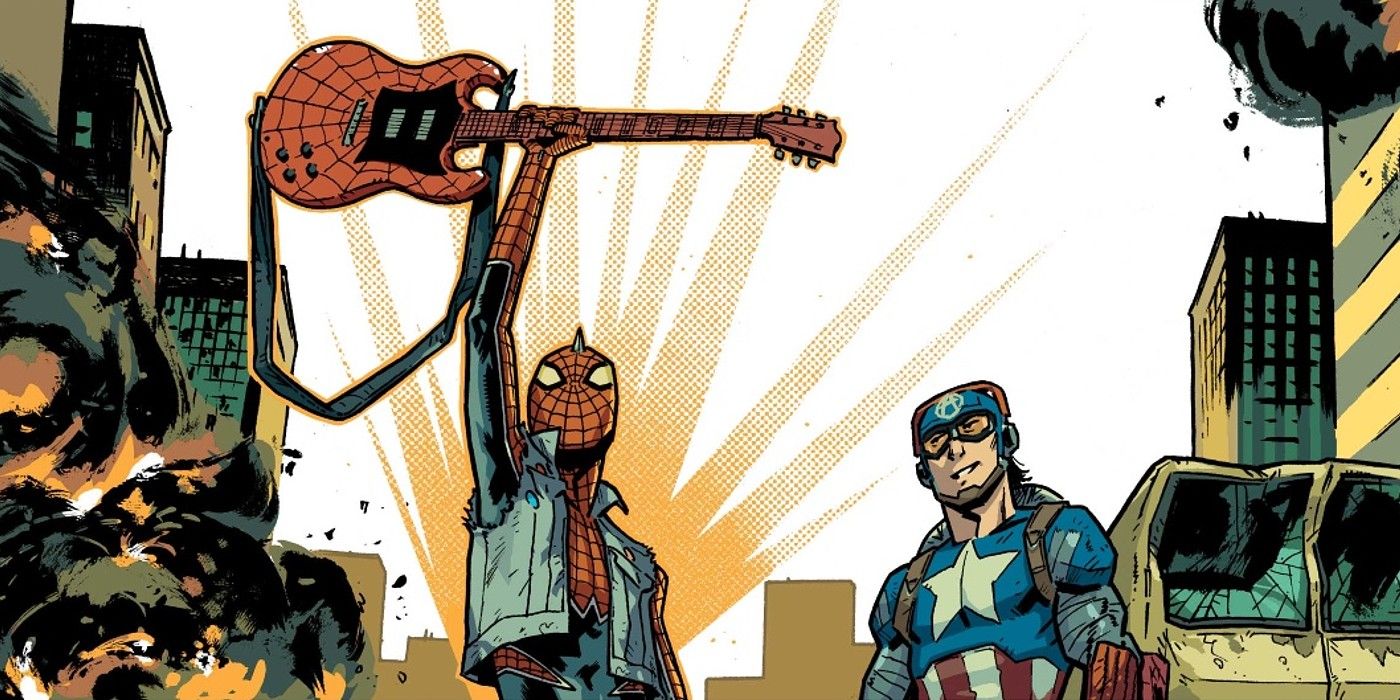 Spider-Man's wildest alternate Spider-Punk is clashing with the authority this April and taking down corruption with the power of music and fists!
Fans of the Amazing Spider-Man know he's no stranger to radical alternate versions of himself, and next month one of his more iconoclastic avatars is arriving in a miniseries all his own. Penned by Cody Ziglar of the current Amazing Spider-Man writing collective known as the "Beyond Board," Spider-Punk #1 will explore a dystopian reality where Norman Osborn, also known as the Green Goblin, rules a broken America with an iron fist, and all that stands against him is a ragtag gang of warriors/rock band led by a punk version of Spidey.
Originally imagined by Dan Slott and Oliver Coipel, Spider-Punk hails from alternate Earth-138, debuting in one of Slott's more fanciful (and strangely brutal) excursions from his run on Amazing Spider-Man back in 2014. Rather than being a version of Peter Parker, Spider-Punk is instead an alternate version of Hobie Brown, an African-American villain/antihero/hero in the main 616 continuity known as the Prowler. Unlike the classic Spider-Man, Hobie Brown was portrayed as a darker character, willing to use lethal force on his foes.
SCREENRANT VIDEO OF THE DAY
Related: Spider-Man Teams With His Clone Ben Reilly In First Look At New Era
This new five-issue limited series, written by Ziglar with art by Justin Mason and Jim Charalampidis, will follow the rockin' arachnid as he goes out on the road with Captain America analogue Captain Anarchy (whom Ziglar refers to as "Karl Morningdew," signifying a possible version of villain Karl Morgenthau, AKA Flag Smasher) and fan favorite Iron Heart (known in this story as Riot Heart) as they reunite the "Spider-Band" on a quest to save America from tyranny in true rebel fashion. "Art and politics, especially shit like punk, are so intertwined that they're inseparable. Hobie's journey is very much him trying to grapple with dismantling an institution as opposed to just the figurehead," said Ziglar in an interview with Newsarama. "They're doing their best to make things better and I think it's obvious the parallels to, well, most political systems." Check out this fresh preview art below:
Ziglar also spoke enthusiastically about the prospect of writing a take on the classic hero that allowed for greater freedom of his storytelling style. "I was given basically complete freedom to pick and choose and remix any characters that I wanted so that's exactly what I did," said Ziglar. While Spider-Punk is not Parker, Ziglar was also quick to point out that, similar to anyone who takes the mantle of the Web-Slinger, Hobie carries with him a certain strain of heroism despite his head-thrashing. "[The Spider-folk are] willing to do the hard thing even if it comes at great personal cost. And they'll do it with a smile/humor."
But will a gang of head-banger superhero wannabes be enough to free America from the yoke of the Green Goblin and his armies of mutated killing machines? Find out when Spider-Man's most gnarly variant gets the spotlight in Spider-Punk #1, on sale April 6.
Next: Spider-Verse Hero Spider-Punk's New Series Picks Up After Killing Venom
Source: Newsarama
Power Rangers vs Freddy Krueger: Still The Greatest Crossover in Comics?
About The Author

Andrew Firestone (245 Articles Published)
Andrew Firestone is a writer of sentences, paragraphs, chapters and words, cultural enthusiast and a hard news junkie from Allston, Massachusetts. An editor, audio engineer and evangelist of all things awesome, he's saddled with an all-consuming awe/fear of Alan Moore, so please be kind. Formerly a writer for the public interest in local government, Andy is a graduate of Lesley University and holds a bachelor's degree in English Literature. He enjoys loud music and soft music and sometimes in-between.