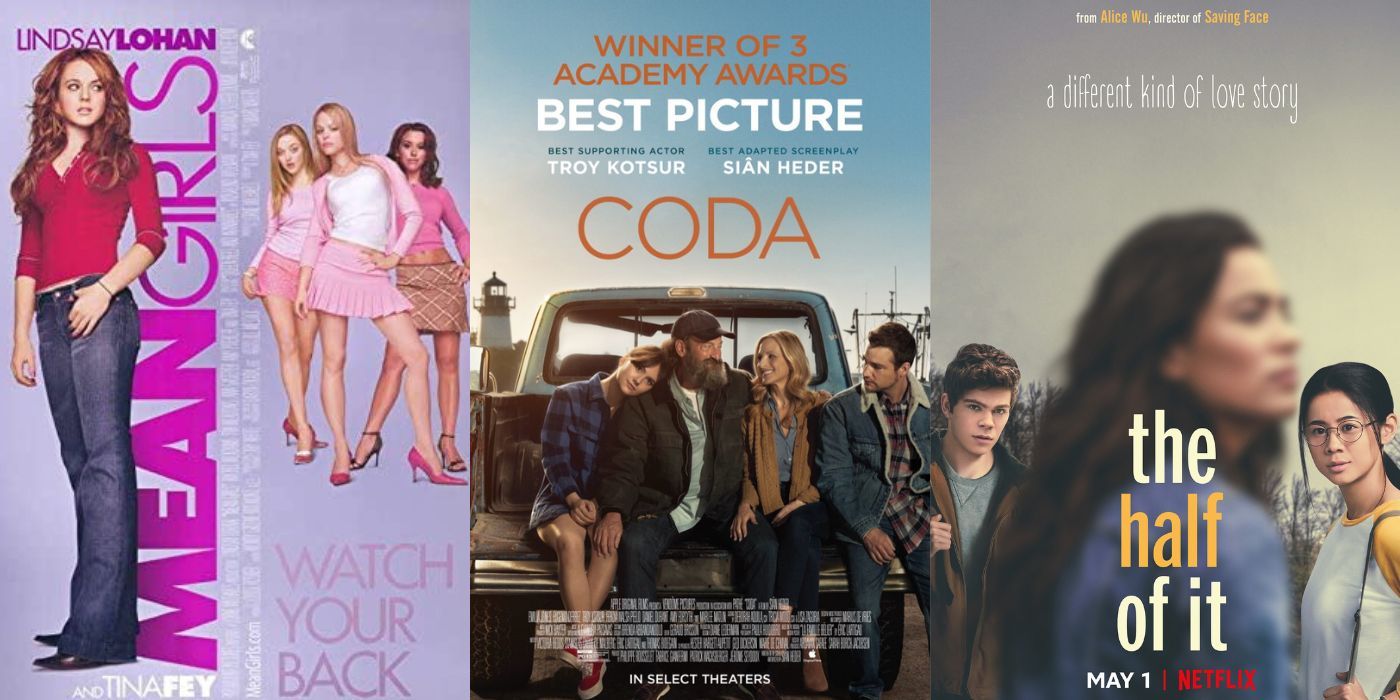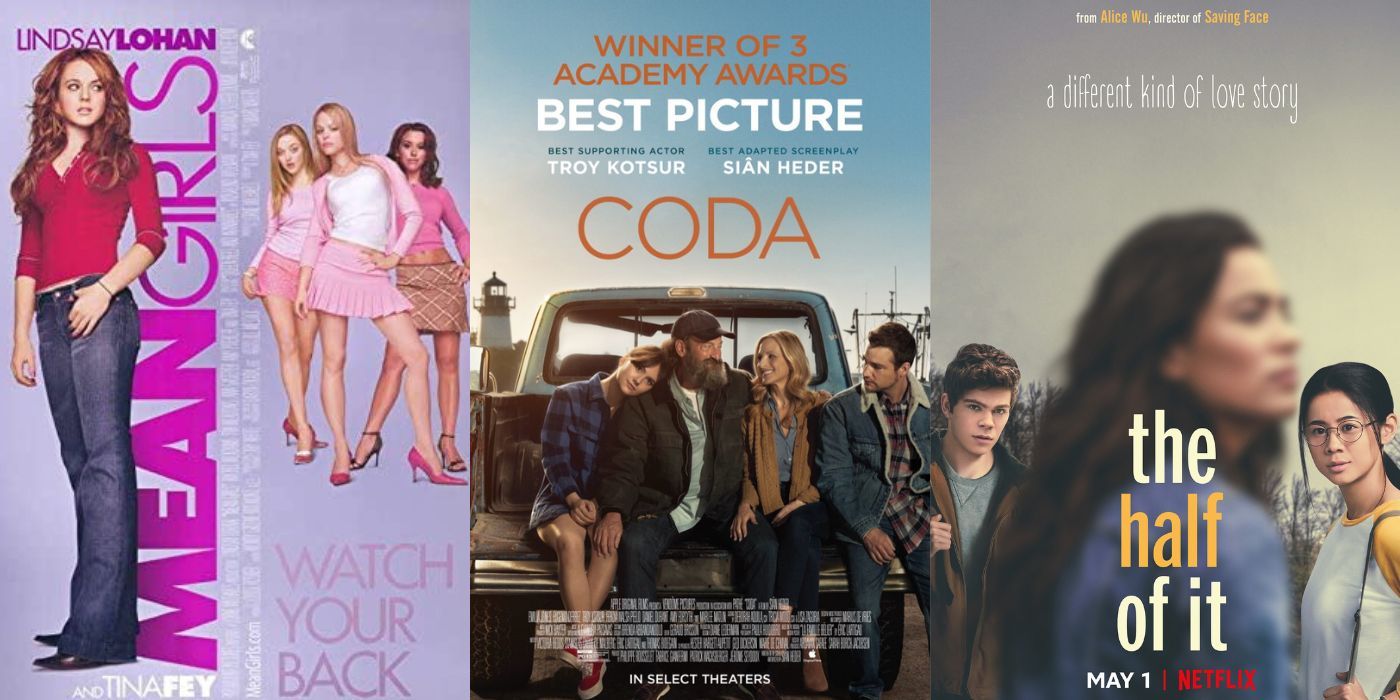 Fans of writer/director Jennifer Kaytin Robinson (Someone Great, Sweet/Vicious) are already counting down the days until September 16th when her brand new teen dark comedy Do Revenge premiers on Netflix. The female-led and created comedy centers on two teen girls teaming up to take down their respective bullies.
Given that most teen movies center on teen girls, it only makes sense that the genre is dominated by female writers, and yet that's not always the case. Despite this, some of the best, most authentic teen movies are written by female writers because they truly understand what it's like to grow up as a teen girl in a society that grossly undervalues the demographic.
SCREENRANT VIDEO OF THE DAY
The Half Of It (2020) – 6.9
Stream On Netflix
Written by the talented Alice Wu, The Half Of It centers on Ellie, a shy high school student, who gets hired by the local high school jock to help him write love letters to win over the girl he likes. However, things get complicated when Ellie realizes she has a crush on the same girl.
RELATED: 10 Best Teen Movies Directed By Women, Ranked By IMDb
Wu manages to bring a certain air of authenticity to the world and characters she created in The Half Of It because she is a lesbian. Though The Half Of It is not an autobiographical story, it's clear to see how her connection to her characters' journey is conveyed in the moving story she's written.
To All the Boys I've Loved Before (2018) – 7.0
Stream On Netflix
Not only is the To All The Boys I've Loved Before movie written by a woman, Sophia Alvarez, but so is the teen book that To All The Boys is adapted from. Both follow Lara Jean Covey (played by Lana Condor) as she begins a fake relationship with Peter Kavinsky after several of her love letters to her crushes are "accidentally" mailed out.
Alvarez was tasked with bringing Lara Jean to the big screen, and given that the movie is one of the best teen romcoms of the 2010s, she did not disappoint. Alvarez has since gone on to write another teen Netflix movie, Along for the Ride. 
Mean Girls (2004) – 7.1
Stream On Netflix And Prime
Tina Fey is one of the most recognizable female writers in Hollywood and has been for several decades now. Fey got her to start on Saturday Night Live before making the jump to movie writing. Mean Girls marked Fey's film writing debut and proved that she knows a thing or two about writing hilarious and awful teen girl characters.
Mean Girls centers on Cady Heron, a teenager who is attending public high school for the first time after spending her entire life homeschooled in Africa. Cady's presence stirs up trouble in the social hierarchy of North Shore High when she is swooped up by the most popular clique in school, The Plastics.
Booksmart (2019) – 7.1
Stream On Prime And Hulu
While Booksmart often gets hailed for being Oliva Wilde's directorial debut, she's not the only brilliant woman creator behind one of the best female-led coming-of-age movies. The movie was written by Emily Halpern, Sarah Haskins, and Susanna Fogel, who transformed the script over many years into the positive, raunchy female-led comedy movie it is.
Booksmart centers on Amy and Molly, two academic overachieving best friends who discover that their peers have been having fun and succeeding academically. The news causes Amy and Molly to set out on an epic night of partying on the eve of their high school graduation.
The Edge Of Seventeen (2016) – 7.3
Available On Most Streaming Platforms
Kelly Freemon Craig not only wrote The Edge of Seventeen, but the movie also marked her directorial debut. Prior to that, she penned the script for the 2009 romantic comedy Post Grad. Her success led her to write and direct the upcoming Judy Blume adaptation of Are You There God? It's Me, Margaret. 
RELATED: The Edge Of Seventeen – The Main Characters, Ranked By Intelligence
The Edge of Seventeen is a coming-of-age comedy that centers on Nadine, a high school junior who is trying to come to terms with her brother dating her best friend. With her best friend preoccupied, Nadine is forced to make new friends who end up helping her discover who she really is. The story is all about growth and acceptance from a teen girl's perspective.
10 Things I Hate About You (1999) – 7.3
Stream On Disney+ And Apple TV
Karen McCullah and Kirsten Smith are a writing team who got their start on television before making their feature film writing debut with one of the best teen Shakespear adaptations of all time, 10 Things I Hate About You. Since then, McCullah and Smith have written a plethora of female-led comedies, including Legally Blonde, She's the Man and the Netflix original series Trinkets. 
Loosely based on The Taming of the Shrew, 10 Things I Hate About You centers on Kat, an abrasive teen girl who finds herself caught in the middle of her younger sister's scheme to get Kat a date so she can start dating herself.
The Hate U Give (2018) – 7.4
Stream On Prime, Apple TV, And Google Play TV
Audrey Wells has been a successful writer for family comedies for decades, having written underrated classics like George of the Jungle and The Game Plan. In 2018, Wells got to expand her filmography when she was selected to adapt the young adult novel The Hate U Give. 
The movie was directed by George Tilman Jr., and Wells did a phenomenal job of the emotional script about a young Black woman who witnesses the death of her best friend at the hands of the police department. The Hate U Give isn't a fun-hearted teen movie, but it is an important teen narrative that deserves to be watched. Wells sadly died the day before the movie was released (via Variety.)
Lady Bird (2017) – 7.4
Stream On Prime, Apple TV, And Google Play TV
Greta Gerwig began her writing and directing career in the early 2000s, but she didn't become a household name until 2017 when she wrote and made her solo directorial debut with Lady Bird. Now the writer/director is on her way to becoming the best in her generation, having been nominated for several Academy Awards, including Best Picture, Best Original Screenplay, and Best Adapted Screenplay.
RELATED: 10 Directorial Debuts By Popular Actresses
Lady Bird is a coming-of-age movie that centers on Lady Bird, a stubborn teenager who refuses to make her mother's job of parenting her easy. The two have a rocky relationship that goes through several highs and lows as Lady Bird navigates her senior year of high school with her best friend by her side.
Juno (2007) – 7.5
Stream On Prime And Disney+
Diablo Cody rocketed to stardom when she penned the script for one of the best coming-of-age movies of all time, Juno, which is turning 15 this year. The movie marked Cody's first writer's credit and helped her become a prolific writer when it comes to stories about underdog female characters.
Junotells the story of Juno MacGuff, a teenager who accidentally becomes pregnant by one of her best friends. Not ready to be a mother, Juno sets out to find a suitable adaptable family for her child, which takes her on an interesting adventure. The movie went on to win the Academy Award for Best Original Screenplay.
CODA (2021) – 8.0
Stream On Apple TV
Sian Heder started her writing career writing shorts before landing a job as a story editor on Orange Is The New Black. Eventually, she made the jump to features writing the screenplay for Tallulah. However, Heder is best known for penning the coming-of-age teen movie CODA, which also won her an Academy Award for Best Picture.
While not thought of as a teen movie in the traditional sense, CODA, without a doubt, is one. The movie centers on Ruby, a young teenager who is the only member of her family who can hear. When Ruby's family business becomes threatened, Ruby must figure out if going to school to pursue her dreams is the right choice for her and the rest of her family.
NEXT: 10 Best Comedy Shows Created By Women, Ranked By IMDb