It seems fair to say that after AMC released the trailer for the second half of Fear the Walking Dead's seventh season, anticipation for the next batch of installments is at an all-time high. Between the upcoming war between former best friends Alicia Clark (Alycia Debnam-Carey) and Victor Strand (Colman Domingo), and Madison Clark's (Kim Dickens) return to the show, there's plenty to get excited about.
But in all that fanfare, you might've missed a few things. Here are 13 key pieces of info we picked up on a rewatch.
AMC/YouTube
Madison's Tattoos
She's back! Madison Clark made her first official reappearance in the final seconds of the 7B trailer, now sporting what looks like tattoos of Nick (Frank Dillane) and Alicia's names. She didn't have these when she sacrificed herself at the Dell Diamond. How, and why, did she get them? Are they actual tattoos, or did she write her kids' names on her wrists? This also serves as a painful reminder that as far as Madison knows, her son is still alive.
AMC/YouTube
This Is Charlie, Not Alicia
Based on the voiceover of Alicia talking about her dreams, you'd guess that this is her, right? Not quite. Taking a closer look at the hair, it sure seems like this is Charlie (Alexa Nisenson) and a new character.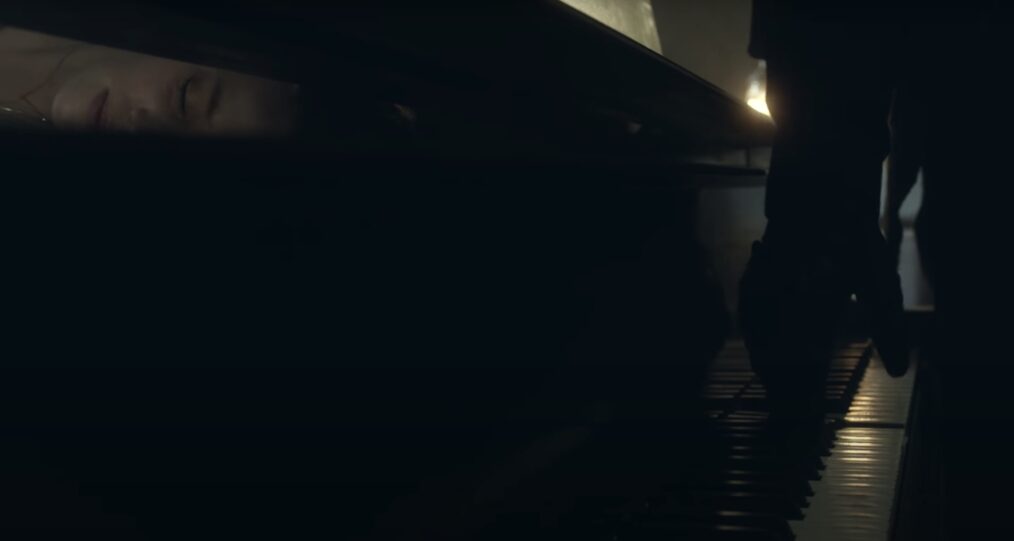 AMC/YouTube
Alicia in Trouble?
While you probably only saw the hand pressing the piano keys the first time around, take a look in the top left of this shot. That's Alicia, and given that it looks like she's asleep, she very well might be in trouble…or maybe this person is a friend.
AMC/YouTube
Cool New Places
It's always eerie fun when Walking Dead shows venture into familiar, everyday settings that have been destroyed by the apocalypse. Daniel (Ruben Blades) happens upon what looks like a playground filled with walkers in the trailer, and here, it looks like Charlie and a new friend are inside a broken-down bowling alley. Creepy! Cool!
AMC/YouTube
A Feast for Crabs
This weird, possibly decapitated walker must be on a beach—there's sand surrounding it and crabs crawling all over it. That probably ties to the scene later in the trailer where someone's getting pushed into a grave, also on a beach.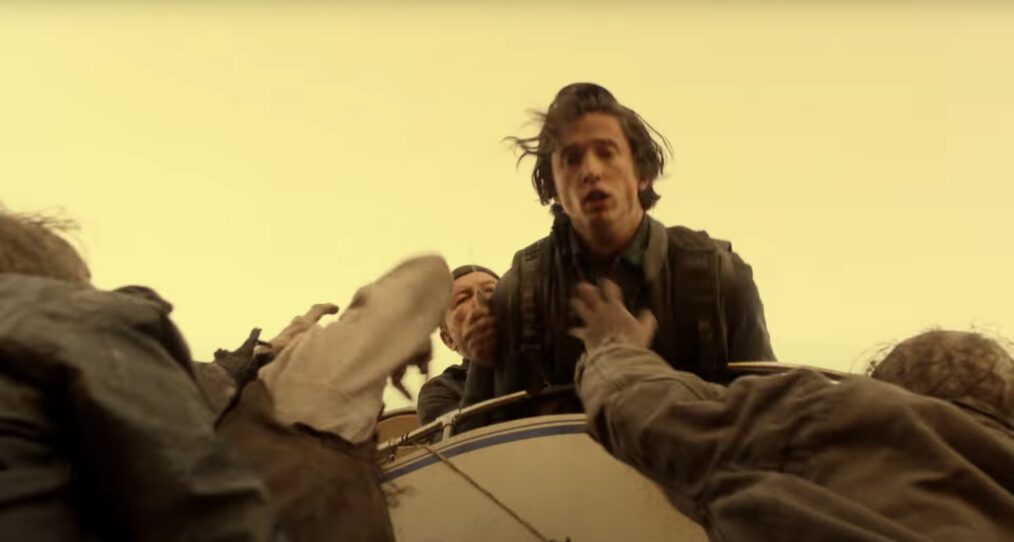 AMC/YouTube
What's Up With Daniel?
Could his amnesia have all been an act? In this trailer, we see Daniel shooting people (or walkers) with a gun, and here, we see him holding a knife on a new character—possibly Charlie's friend—while holding him over some walkers. How very Season 3 Daniel of him!
AMC/YouTube
Sarah and Wendell, Reunited
If you were sad that Sarah (Mo Collins) didn't get to see her twin in 7A, it looks like a reunion is in store. In this split-second frame, she seems to be escaping from Strand's tower with him, Grace (Karen David) and several other members of Morgan's (Lennie James) group. Later on in the trailer, there's a clearer shot of her with a group, and Wendell (Daryl Mitchell) is there.
AMC/YouTube
Arno and His Group Are Still Around
It seems Strand vs. Alicia won't be the only conflict in 7B. Arno (Spencer Granese) appears a few times in the trailer: once stabbing a walker, once breaking into a house where it appears Alicia is hiding, and here, where he's put someone in a cage above walkers.
AMC/YouTube
The Person Arno's Torturing Is…
Wes (Colby Hollman). Might this nasty predicament have something to do with his anger at Alicia in the second half of the trailer?
AMC/YouTube
Going for a Swim
Based on hairstyles alone, it sure looks like John Dorie Sr. (Keith Carradine) and June (Jenna Elfman) have gotten caught in this flood.
AMC/YouTube
June's Change of Attire
Why is she wearing a hockey mask and pads? We're not sure, but we're guessing it has something to do with the walker trying to take a chunk out of her shoulder.
AMC/YouTube
Alicia's in This Shot!
On a first watch, this just looks like Strand running through his tower. But take a closer look—Alicia's coming around the corner. Is she attacking him? Running away from something along with him? Both?
AMC/YouTube
Madison's Outfit Might Give a Timeline Clue
She's kept her leather jacket, which is great. But whenever her scene in the trailer is taking place, it likely isn't in the immediate aftermath of the Dell Diamond fire. In that scene (shown above), Madison was wearing a green plaid shirt with floral patches. In the trailer, her shirt is blue.
Watch the full trailer here:
Fear the Walking Dead, Season 7B premiere, Sunday, April 24, 9/8c, AMC