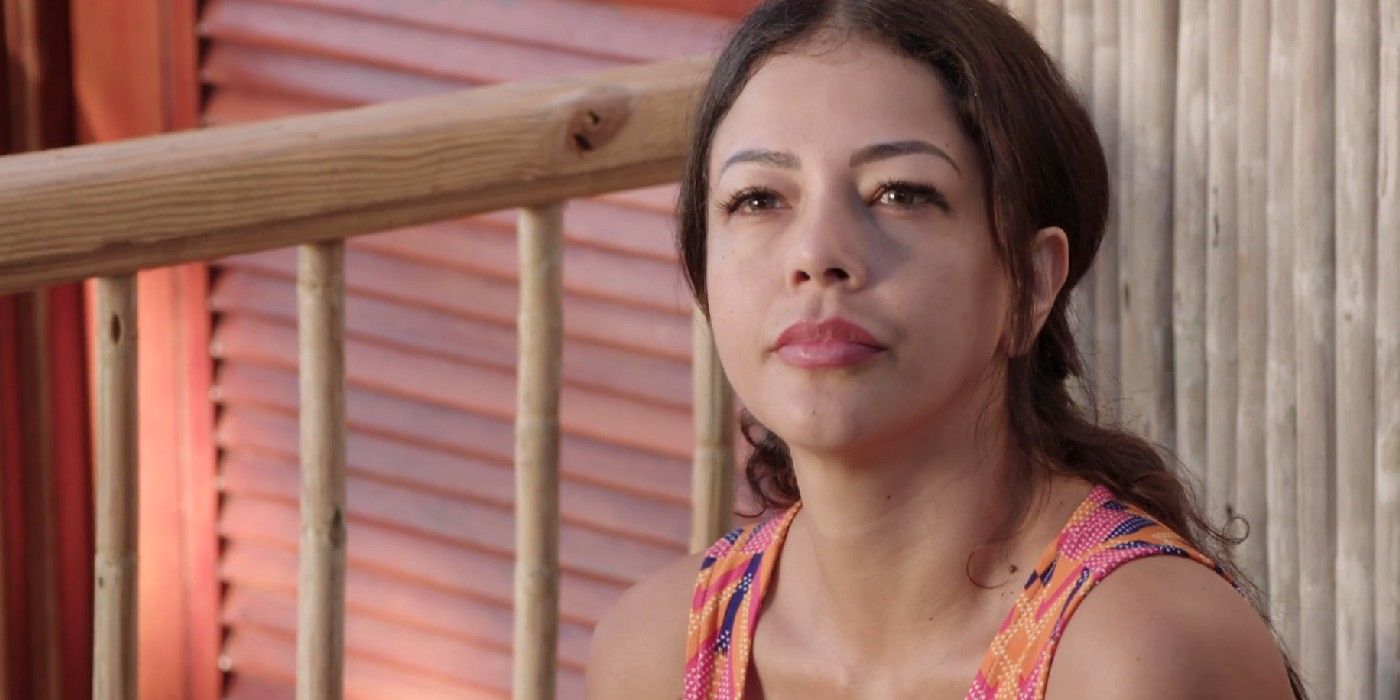 90 Day Fiancé: Before the 90 Days viewers thought Jasmine Pineda has a new boyfriend after she posed for a selfie with a mystery man on Instagram.
Jasmine Pineda posted a happy selfie with a blonde man on her Instagram, making 90 Day Fiancé fans wonder if he's her new boyfriend. Panama dweller Jasmine currently stars in 90 Day Fiancé: Before the 90 Days with Gino Palazzolo, a Michigan man she met online. Gino met Jasmine in her home country with the hopes of eventually making her his wife. But while Jasmine was the insecure and jealous type, Gino was hiding a few secrets of his own. He invited drama into their relationship by sharing Jasmine's nude photos with an ex. Has Gino's terrible mistake prompted Jasmine into dumping him and finding a new man to date?
SCREENRANT VIDEO OF THE DAY
34-year-old Jasmine went through tough times during the start of the pandemic when her little son wasn't keeping well. Jasmine said Gino, 51, felt like therapy to her during those moments of pain. But Jasmine also had baggage of her own stemming from problematic past relationships, which didn't allow her to fully trust Gino. Just when she started to see a happy future with Gino, his ex contacted Jasmine to expose his nasty habits. Jasmine was heartbroken to find out Gino had shared her private pics, but she did forgive him when he assured her she was all he ever wanted. But Jasmine still thinks Gino is someone who won't stop lying as during the latest 90 Day Fiancé: Before the 90 Days, she found old tickets from a trip to Legoland on his phone which he had forgotten to tell her about.
Related: 90 Day Fiancé: How Jasmine Pineda Has Emerged As The MVP Of Season 5
While Gino said it was from six years ago but Jasmine yelled, "you keep lying about simple [things]!" Gino who's usually calm during fights stormed off after flipping a chair and told the cameras, "I'm done." This is why when Jasmine posted a photo with a stranger, fans assumed she had split with Gino and was dating a new boyfriend. Although Jasmine posted an emoji over the man's face, she did caption the photo with, "friendship lasts forever." Besides, Jasmine was all glammed up for the meeting with a new makeup and hair transformation, dressed in a stunning all-white outfit. Jasmine's Instagram followers got a chance to ask her about the blonde man during a Q&A session she hosted later. "What that a new man???" was one of the questions to which Jasmine replied with, "No! He's my Australian friend."
A different fan wanted to know if the blonde guy from Jasmine's story is "a new boyfriend" Jasmine told them he's one of her best friends. "He's always like me," Jasmine confessed. However, she didn't want to lose him as a friend and decided not to date him. "And keep an everlasting friendship instead," Jasmine added. Jasmine revealed she'd gone to meet him at his apartment in JW Marriott Panama. "It's an amazing huge skyscraper that has the form of a boat," explained OnlyFans creator Jasmine. One of Jasmine's critics questioned her if she would mind Gino posting about a female friend. "Tricky question: Supposing we're still together I wouldn't mind if I know who she is," considered Jasmine.
Jasmine says that if she were to be dating Gino her friends would automatically become his friends and vice versa. Jasmine and Gino's current relationship status have been tricky indeed, especially after her claims of getting fired from her job due to his ex sending her photos to her workplace. The couple doesn't seem to directly interact on Instagram but they do tag each other in memes and content about them. Only time and the 90 Day Fiancé Tell-All will reveal if Jasmine stayed with Gino and if he finally proposed to her. Or if she is with the Australian man who she suggests is a kindred spirit.
Next: 90 Day Fiancé: Why Jasmine Claims Gino Wasn't Disrespectful To Her Mom
Source: Jasmine Pineda/Instagram
My Big Fat Fabulous Life: Why Some Fans Can't Stand Whitney's Promo Posts
About The Author
Saylee Padwal (2895 Articles Published)
Saylee Padwal is a Features and News Writer for Screen Rant where she covers Reality TV. Enjoys spending her spare time binging her favorite horror films, crime docs, and exploring local coffee shops.