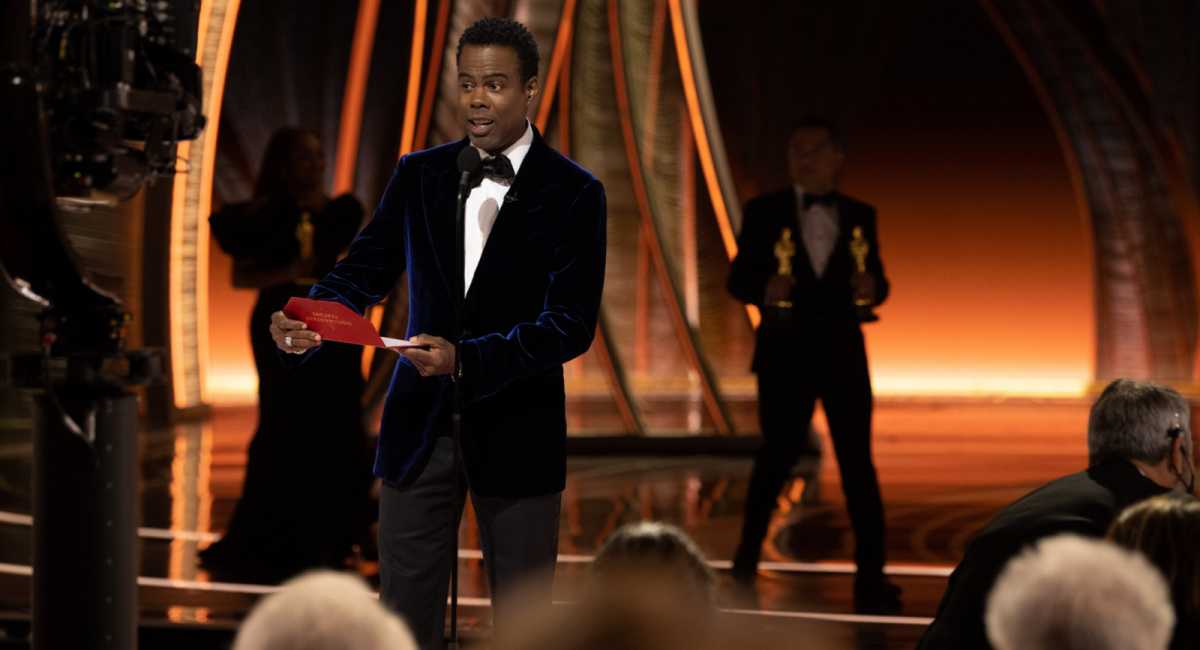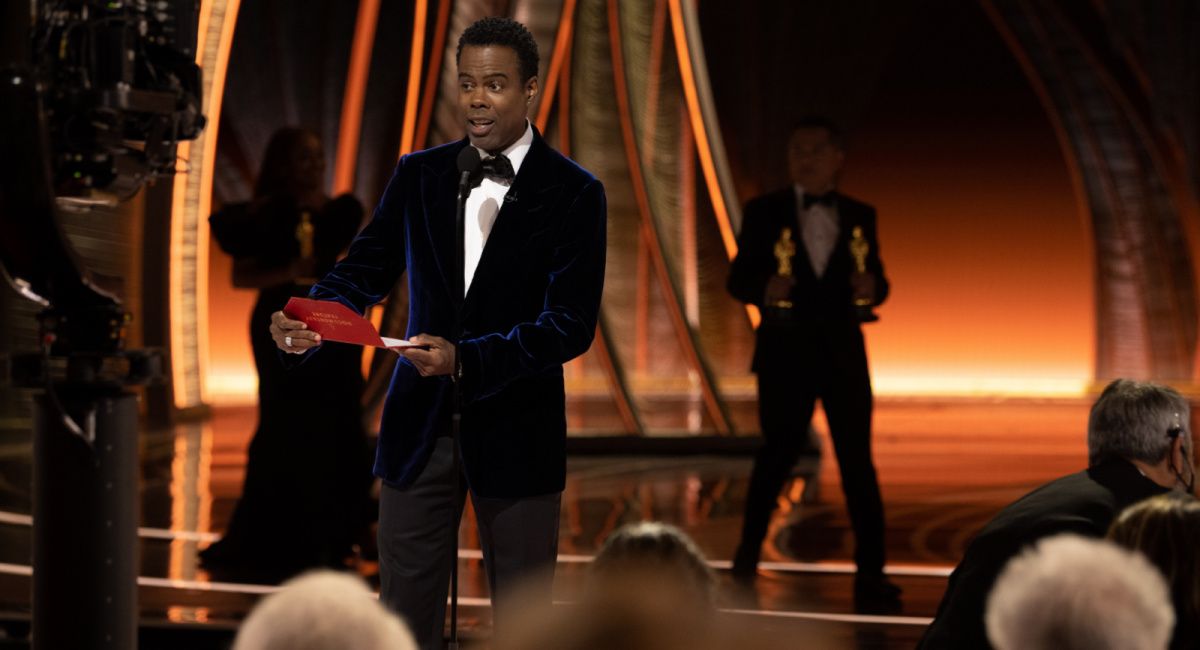 Chris Rock presents the Oscar® for Documentary Feature during the live ABC telecast of the 94th Oscars® at the Dolby Theatre at Ovation Hollywood in Los Angeles, CA, on Sunday, March 27, 2022. Photo Credit: Blaine Ohigashi / A.M.P.A.S.
It was the slap heard around the world – or at least where the Oscars are broadcast. As comedian and presenter Chris Rock joked about Jada Pinkett Smith's shaved head, her husband Will Smith marched on stage and slapped him.
"Jada, I love you. 'G.I. Jane 2'? Can't wait to see it," Rock said as part of a short monologue that had previously been drawing laughs in the room. Pinkett Smith, who has recently spoken about her experiences dealing with alopecia, rolled her eyes at the gag. Seeing his wife's discomfort, Smith took to the stage, walked directly up to Rock, and struck him on the face. "Will Smith just smacked the [expletive] out of me," Rock remarked as Smith returned to his seat. Once he was sat down again, Smith repeatedly shouted at Rock: "Leave my wife's name out of your [expletive] mouth."
It was a chaotic, uncomfortable moment for an Oscar ceremony that had already been marked by unfortunate moments, including the puzzling decision to shift some categories to a pre-show period and one or two seemingly mismanaged performances, including one of 'Encanto's 'We Don't Take About Bruno'.
Smith, a Best Actor nominee for 'King Richard' went on to win his category and used his speech to attempt to explain his actions
"Richard Williams was a fierce defender of his family. In this time in my life, in this moment I am overwhelmed by what God is calling on me to do and be in this world," Smith said. "Making this film, I got to protect Aunjanue Ellis, who is one of the most strongest, most delicate people I've ever met."
"I got to protect Saniyya and Demi, the two actresses who played Venus and Serena. I'm being called on in my life to love people and to protect people. And to be a river to my people. And I know to do what we do, we gotta be able to take abuse, you gotta be able to take people talking crazy about you. You gotta smile and pretend like that's ok." Will Smith accepts the Oscar® for Actor in a Leading Role during the live ABC telecast of the 94th Oscars® at the Dolby Theatre at Ovation Hollywood in Los Angeles, CA, on Sunday, March 27, 2022. Photo Credit: Blaine Ohigashi / A.M.P.A.S.
"Denzel [Washington] said to me a few minutes ago: 'At your highest moment, be careful – that's when the devil comes for you.' It's like… I wanna be a vessel for love."
Smith also took a moment to offer apologies – though not to Rock: "I want to apologize to the Academy. I want to apologize to all my fellow nominees. This is a beautiful moment and I'm not crying for winning an award.
"It's not about winning an award for me. It's about being able to shine a light on all of the people," he said. Smith ended his speech by saying, "I hope the Academy invites me back."
The body itself tweeted about the incident roughly two hours after it happened. "The Academy does not condone violence of any form," it read. "Tonight we are delighted to celebrate our 94th Academy Awards winners, who deserve this moment of recognition from their peers and movie lovers around the world."
And while the assault is considered a misdemeanor in California, Rock has so far declined to file a report. "LAPD investigative entities are aware of an incident between two individuals during the Academy Awards program," the police said in a statement last night. "The incident involved one individual slapping another," they added. "The individual involved has declined to file a police report. If the involved party desires a police report at a later date, LAPD will be available to complete an investigative report."
Reactions from the industry were mixed between shock and humor. Filmmaking Marshall Herskovitz was unimpressed, tweeting the following:
The history of on-stage bad blood between Rock and the Smith family goes back a few years at least, especially to time Rock was hosting the 2016 incarnation of the event and made a joke about the couple boycotting the awards over the lack of acting nominations for people of color.
"Jada [Pinkett Smith] boycotting the Oscars is like me boycotting Rihanna's panties. I wasn't invited," Rock said during his opening monologue. Pinkett Smith later said she was "moving on" from the joke. But feelings clearly boiled over again last night.
Either way, this is an Oscars no-one is likely to forget for a while. For a full roundup, read our story on the winners. Will Smith slaps Chris Rock at the 94th Academy Awards. Photo via Twitter.