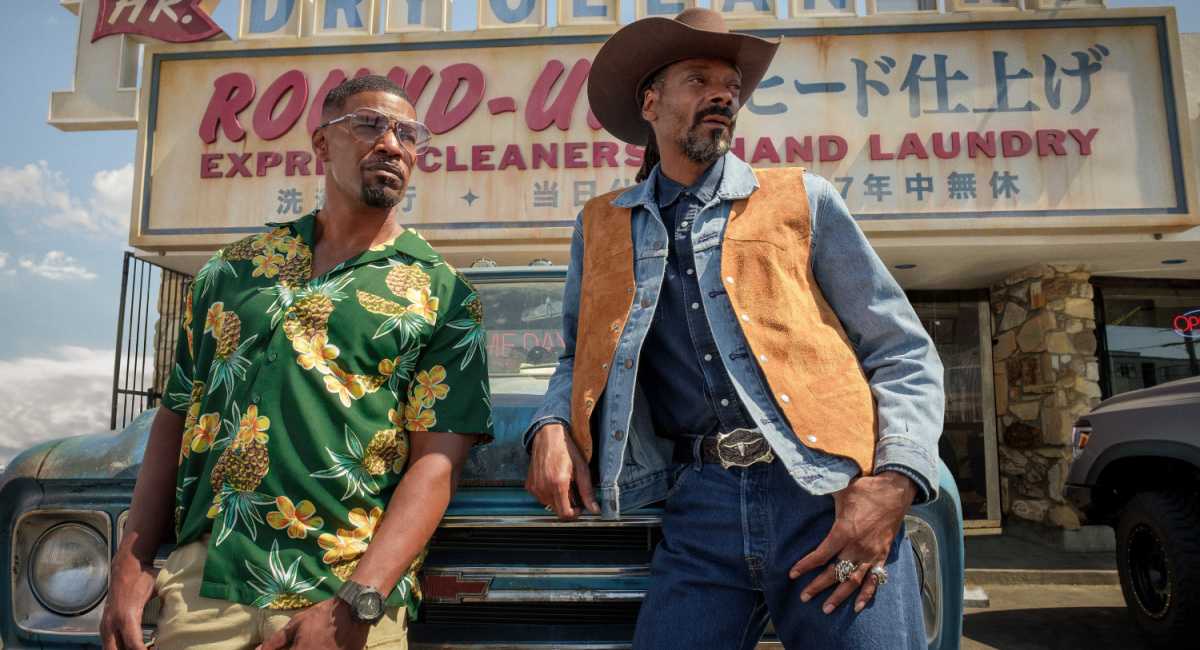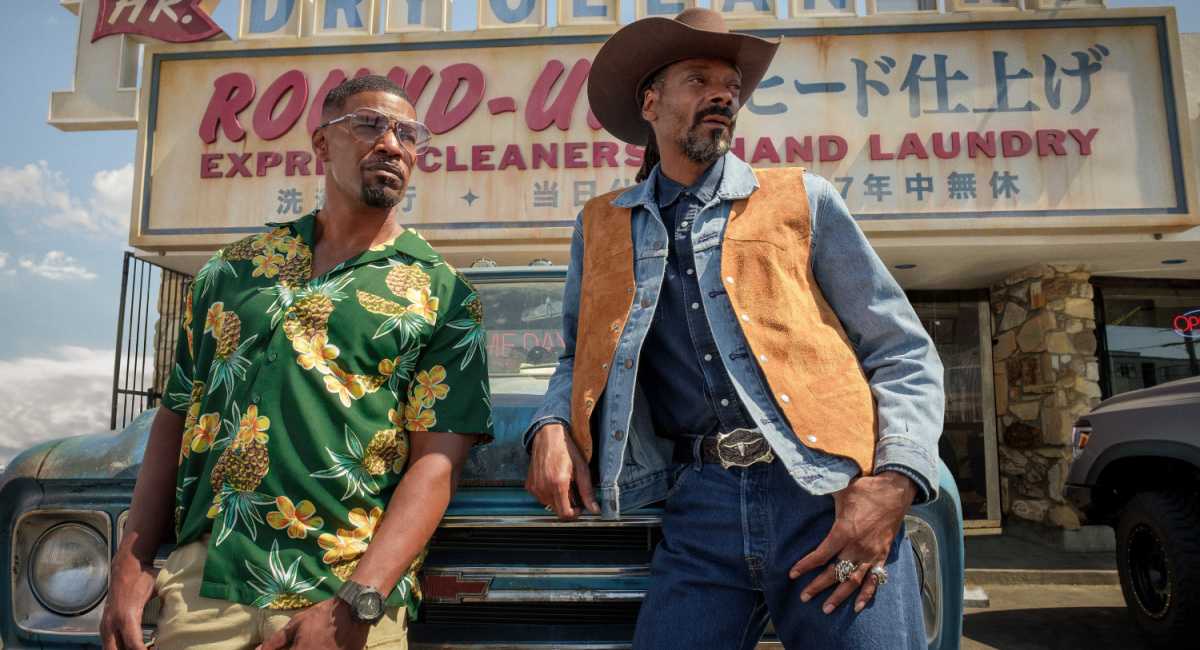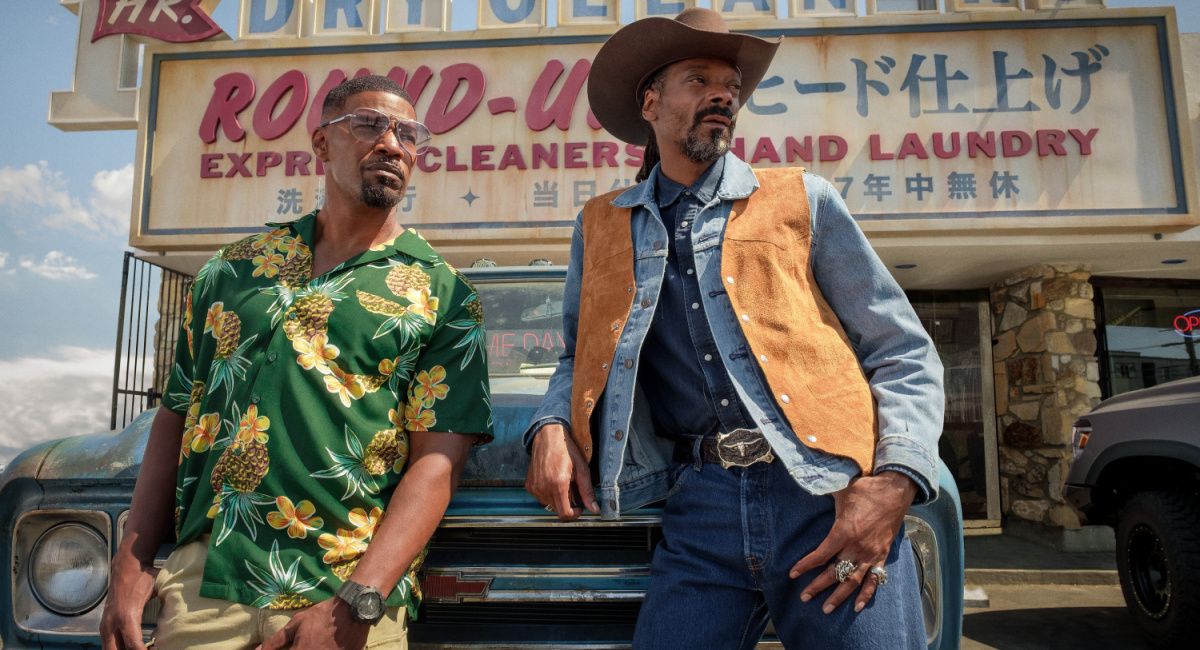 (L-R) Jamie Foxx as Bud and Snoop Dogg as Big John in 'Day Shift.' Cr. Andrew Cooper/Netflix © 2022.
'Day Shift,' which debuted on Netflix August 12th is the sort of movie that the streaming service seems to drop almost out of nowhere – which is surprising given the star power of Jamie Foxx. One trailer and then here we are.
It certainly hasn't been treated to the same sort of rollout as, say, 'The Gray Man', but then 'Day Shift' didn't cost $200 million to make. But that's no slight on the new vampire hunting movie, which generates plenty of goofy action fun without needing to trot around the globe or blow up everything in sight.
Foxx plays Bud Jablonski, who makes his living cleaning pools in the San Fernando Valley. At least, that's what he tells his family. His real job is tracking down and dispatching vampires.
In the movie's mythology, the toothy terrors have existed for millennia alongside humans and, back in the day, were worshipped as gods (a temple under Los Angeles plays a role later in the plot).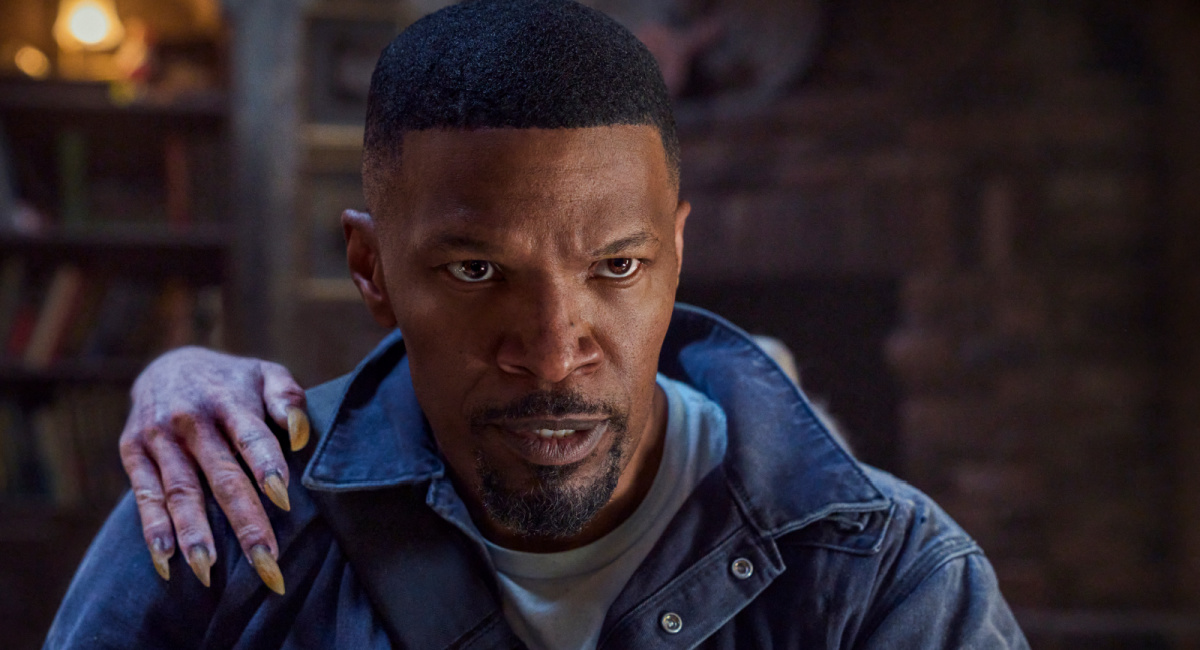 Jamie Foxx as Bud Jablonski in 'Day Shift.' Photo: Parrish Lewid/Netflix.
Yet as time marched on, humanity began to realize that the genetic mutations were actually more of a threat than a religion and turned on them. Since then, there has been an understanding – vampires prey in darkness and those still among the fully living have organized to hunt them.
Bud used to be among those ranks, a fully paid-up member of the union that authorizes gun- and stake-toting fighters to execute vampires, claiming their fangs as evidence for payout. The older the Drac-pack member, the bigger the cash reward. But thanks to some "violations" (violently killing a vampire in a house with a kids' party happening next door), he's been on the outs for years.
Yet when his estranged wife Jocelyn (Meagan Good) announces she's taking their daughter Paige (Zion Broadnax) to Florida for a new financial opportunity, Bud knows he'll need to start earning more to prevent that happening.
Oh yes, and there's an ambitious vampire (Karla Souza's Audrey San Fernando) looking to take over the Valley's undead action, and who is first glimpsed burying a rival "alive" in the freshly poured foundations of a house.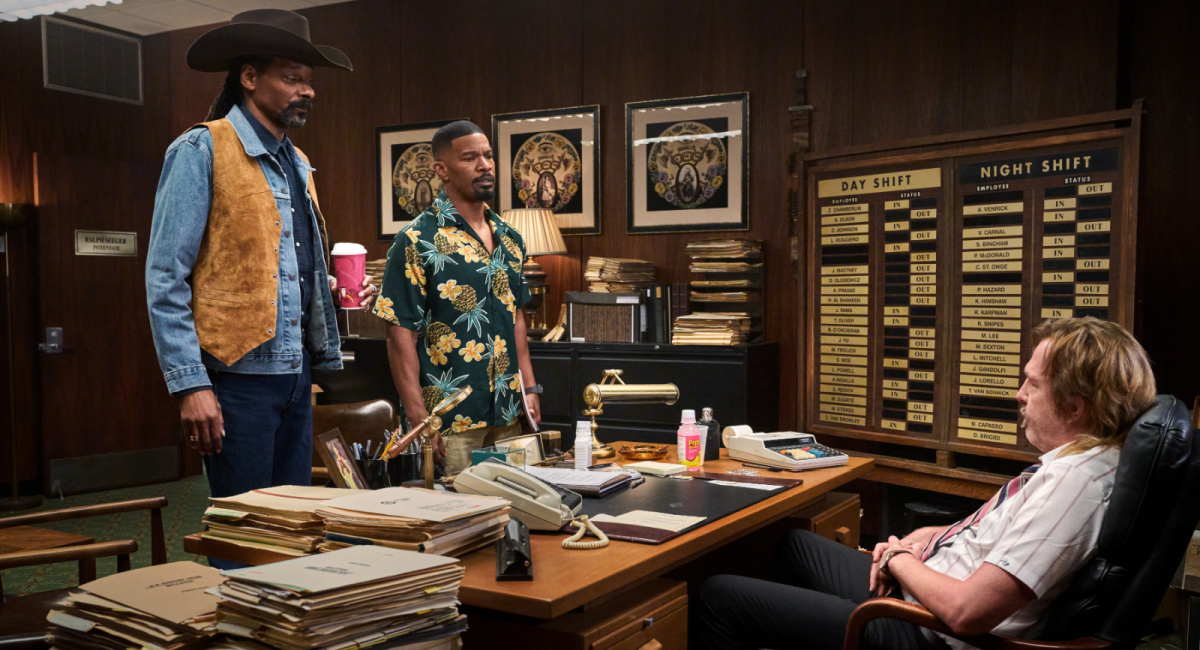 (L-R) Snoop Dogg as Big John Elliott, Jamie Foxx as Bud Jablonski and Seeger in 'Day Shift.' Photo: Parrish Lewis/Netflix © 2022.
Bud will need to call on the help of old pal – and legendary vampire hunter – Big John Elliott (a typically chill Snoop Dogg) to get himself official again. And that comes with big condition… Bud will have to put up with union clerk Seth (Dave Franco) monitoring his missions.
More normally used to spending his time behind a desk, and with little inclination to do anything else, Seth soon grows more useful, but it's not an easy match at first, since Seth's all about following the rules and Bud is, as anyone could guess… not.
That's a familiar dynamic for a movie such as this, and writers Tyler Tice (this is his first produced script) and Shay Hatten ('Army of the Dead') don't bring too much that is fresh to the mismatched buddy cop formula. Yet Foxx and Franco find a vibe that works.
Whether it's Seth peeing his pants in initial fear at confronting a vampire in the field or the pair arguing about 'Twilight' movies, they're often the funniest part of the movie.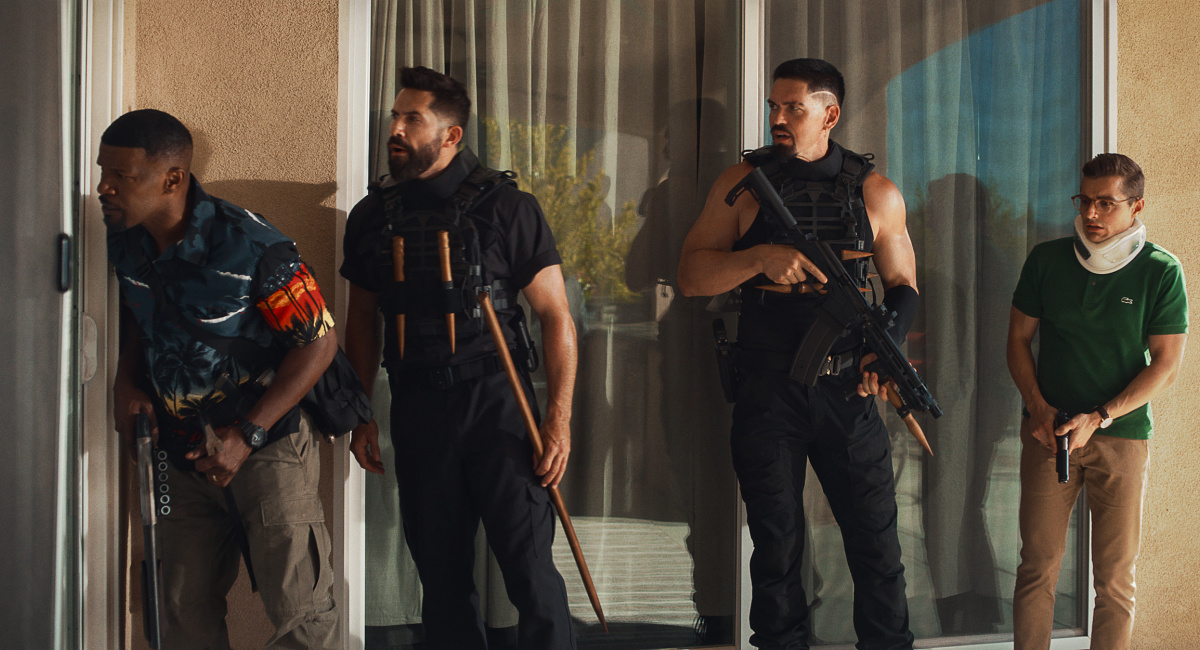 (L to R) Jamie Foxx as Bud, Scott Adkins as Diran, Steve Howey as Mike and Dave Franco as Seth in 'Day Shift.' Cr. Netflix © 2022.
Director J.J. Perry is a graduate of the 87Eleven school of stunt work. Training with the likes of David Leitch and Chad Stahelski and working as a stuntman then a stunt coordinator, he's since moved up to second unit work and makes his full directorial debut with 'Day Shift.'
It's perhaps no surprise then, that besides the cast, the set-pieces are the star here. From an initial rumble between Foxx's Bud and an old woman who turns out to be both A) undead and B) a key part of the plot going forward to the various clashes between humans and the fang club, this is an all-action romp.
Perry and cinematographer Tobi Oliver know how to stage and shoot an effective fight scene, and they make good use of some talented stunt folk to bring those moments to life. Whether it's a battle in an abandoned mall (highlighted by Snoop's Big John arriving with a hulking minigun called "Big Bertha" and laying waste to many enemies) or a match-up between three vampires, the conflicts go for the jugular even more than the villains.
There is, perhaps, an occasional leaning too hard on one specific move (clambering over someone's head and flipping them, as Scarlett Johansson's Black Widow often used to do in Marvel movies), but otherwise the stunt work is lean and entertaining.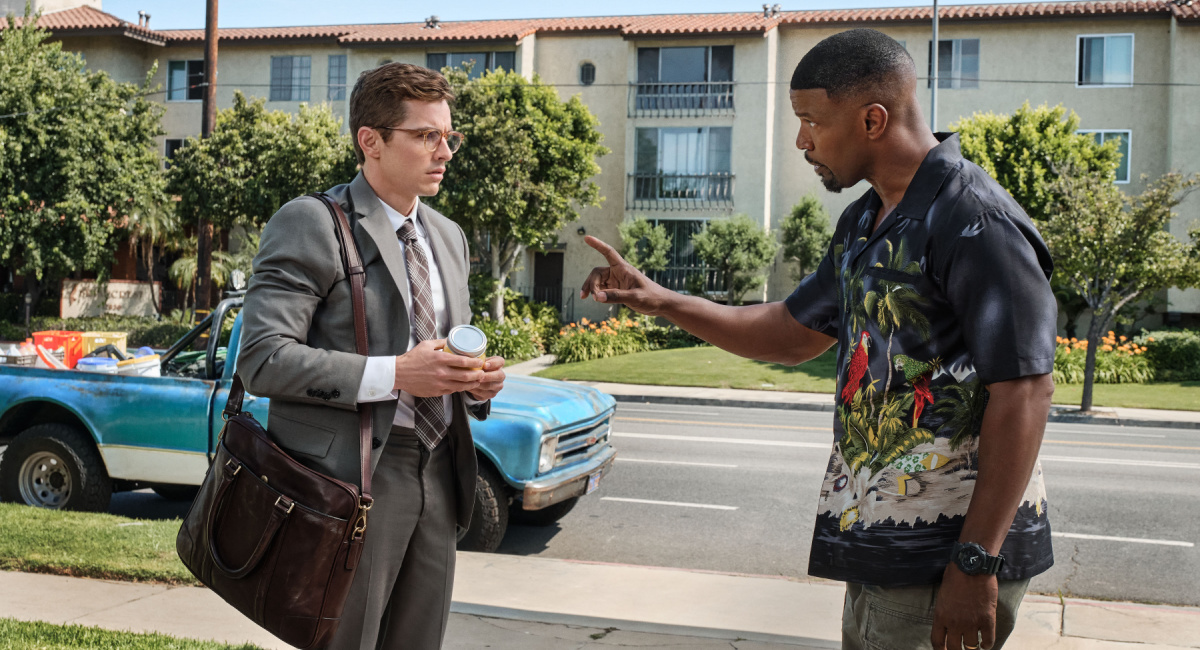 (L to R) Dave Franco as Seth and Jamie Foxx as Bud in 'Day Shift.' Photo: Parrish Lewis/Netflix © 2022.
When the jokes are as sharp as the vampire's teeth, the movie truly entertains, but that doesn't happen enough to carry the rest of what shapes up to be a fairly standard example of the genre. There are lots of elements here pulled from the shelf that are rarely customized to the degree that they seem fresh.
A big, nasty vampire plan? Seen it. The hero's family in danger? Yup. A grungy dealer in vampire death payouts who keeps a hidden base behind a mundane pawn shop front – and who ends up a victim? Present. And even though he's played by Peter Stormare, it doesn't quite raise the level up above average.
Netflix has been on a run of vampire stories of late – between the likes of 'Night Teeth' and the YA-centric 'First Kill', the streaming service can't get enough of the fanged ones and/or the people who slay them. 'Day Shift' ranks more highly than some, mostly thanks to Foxx's charisma, Franco's throwing himself into the comedy, and the stunt work.
If you're craving some fang club action and you haven't had your bloodlust slated by the many vampire movies already out there in the world, 'Day Shift' offers a solid bite even if it's not the greatest example of the genre.
'Day Shift receives 3 out of 5 stars.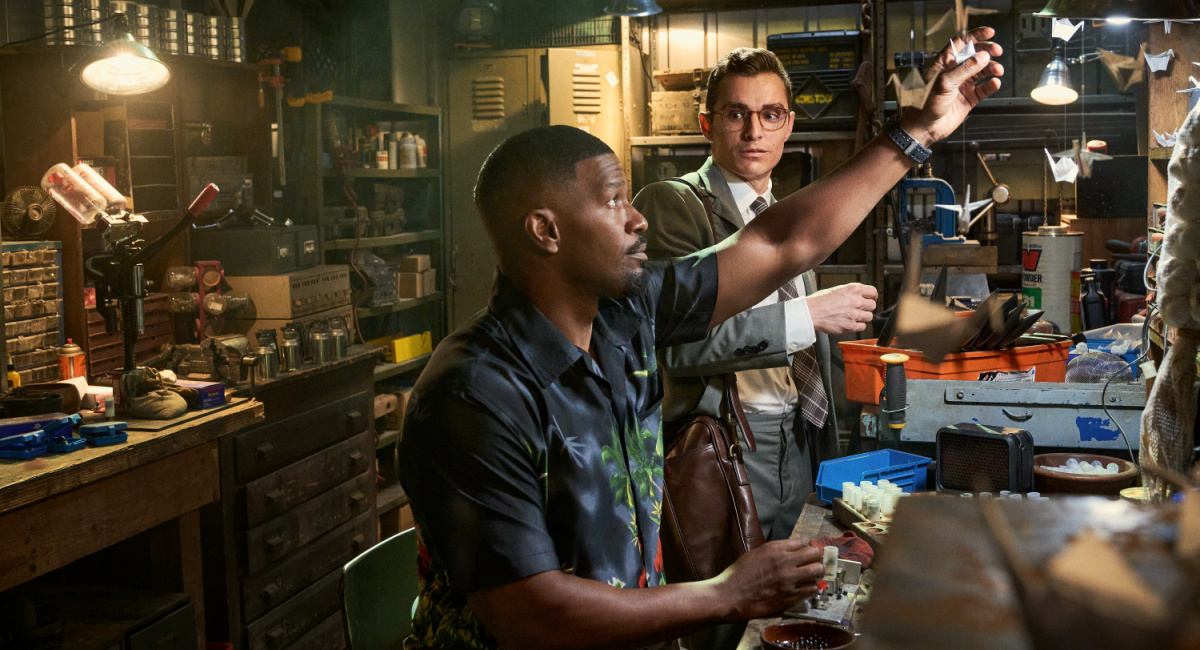 (L to R) Jamie Foxx as Bud and Dave Franco as Seth in 'Day Shift.' Cr. Parrish Lewis/Netflix © 2022.