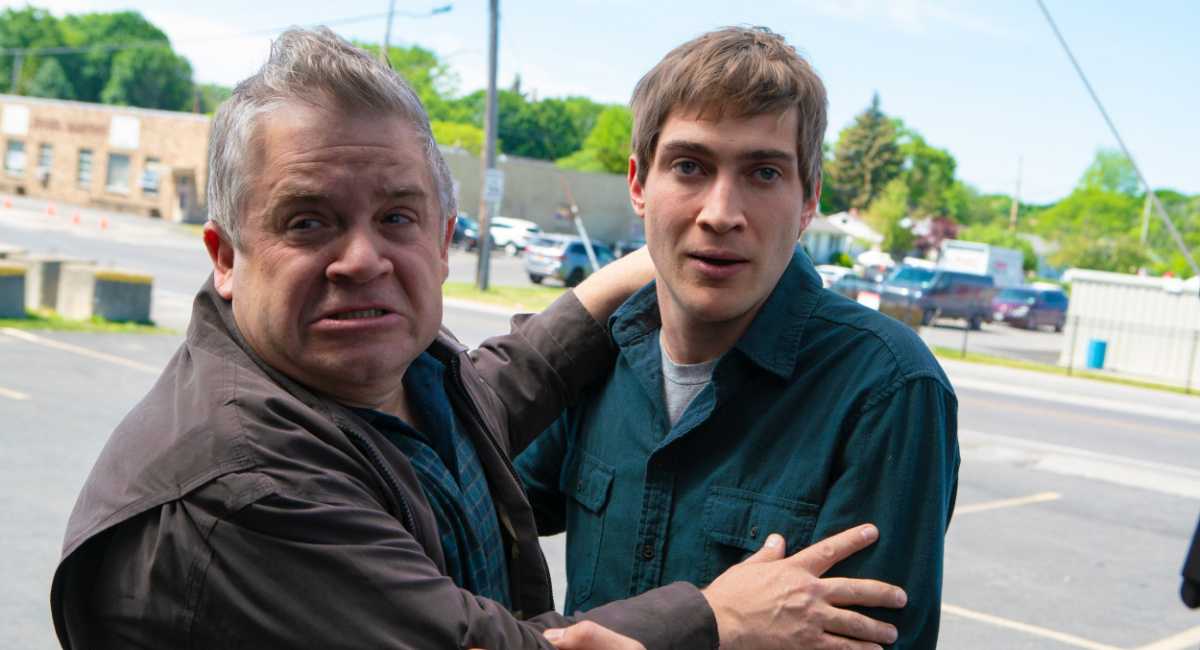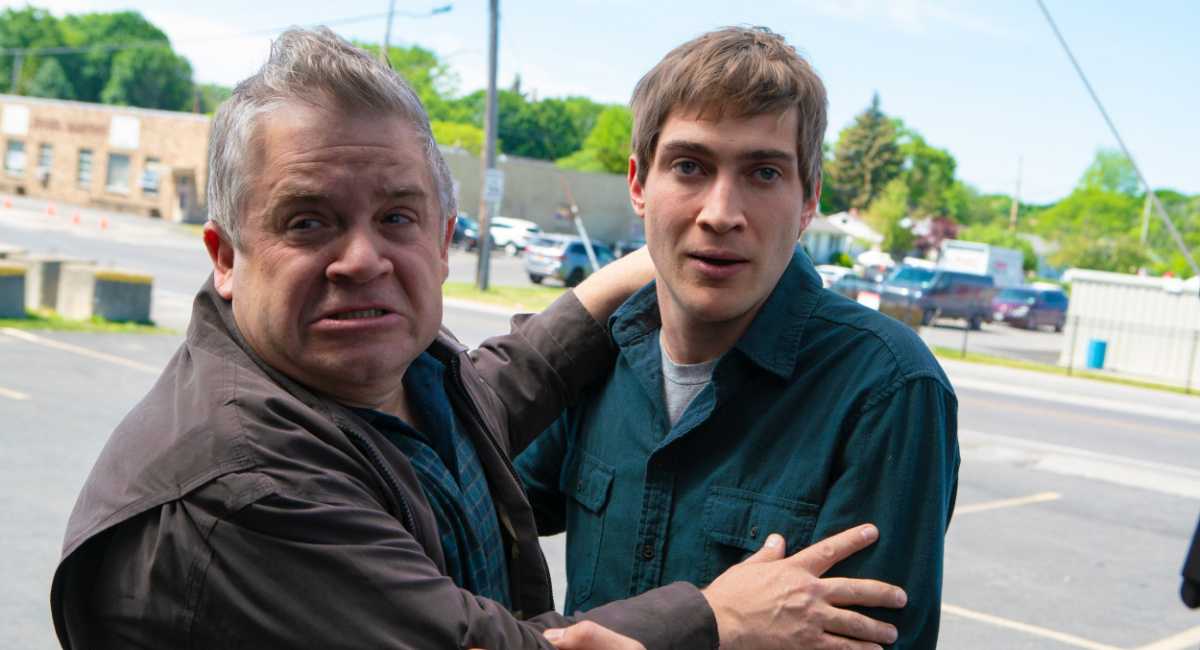 Opening in theaters on August 5th and On Demand August 12th is the new comedy 'I Love My Dad,' which was written and directed by actor James Morosini.
Based on a true story, the movie stars Patton Oswalt as Chuck, a down-on-his-luck man who is estranged from his suicidal son, Franklin (James Morosini). After Franklin blocks his dad on social media, Chuck steals the profile of a waitress named Becca (Claudia Sulewski) and "catfishes" his son in a misguided attempt to grow closer to him.
In addition to Morosini, Oswalt, and Sulewski, the cast also includes Rachel Dratch and Lil Rel Howery.
Moviefone recently had the chance to speak with Patton Oswalt and Claudia Sulewski about their work on 'I Love My Dad,' the wild true story it is based on, their characters, and working with James Morosini.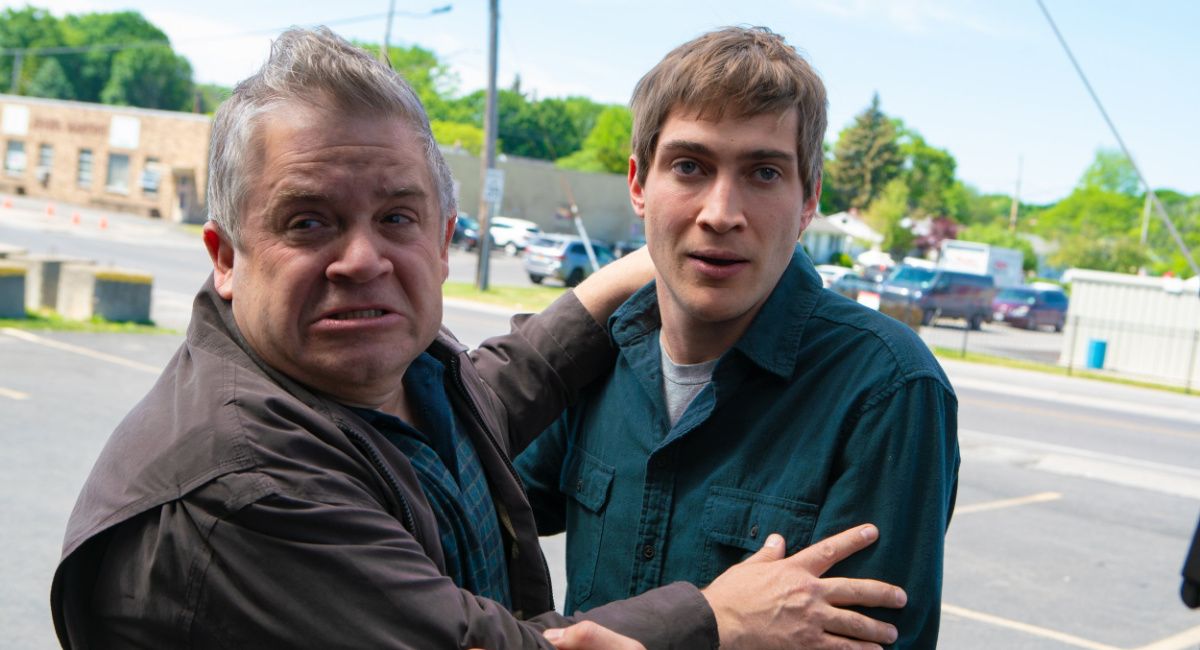 (L to R) Patton Oswalt and James Morosini in "I Love My Dad,' a Magnolia Pictures release. Photo courtesy of Magnolia Pictures.
You can read our full interview below or click on the video player above to watch our exclusive interviews with Oswalt, Sulewski, James Morosini and Rachel Dratch.
Moviefone: To begin with, Patton, what was your first reaction to James Morosini's very personal screenplay and what was your approach to playing Chuck?
Patton Oswalt: Well, my first reaction was this will either be amazing or a fiasco, which I love. I love scripts that roll those dice. My way to play Chuck was to play him, not with that sense of self-satisfaction, but with that sense of I'm the wrong hero in this world. I'm the one who's willing to do the awkward, ugly stuff that needs to be done, that kind of rationalization.
More than anything he wants to be seen as a good guy. He doesn't really care if he is a good guy. He's the classic example of, I should get credit for wanting to do the right thing. I don't know about all this following through and showing up stuff, that just seems frivolous. He wants the credit. He wants all the privileges and none of the responsibilities.
MF: Claudia, you really play three characters in the film, the real Becca, Franklin's fantasy version of Becca, and Chuck when he is pretending to be Becca. Can you talk about the challenges of playing all those different characters in one performance?
Claudia Sulewski: I think finding distinction between the three and making sure that they feel so different from each other was really important to me, especially when it all comes full circle in the end. Just showing how real Becca is, and how she's so outside of the picture and kind of showing that ignorance to everything that is happening.
Then, I got to have so much fun with imaginary Becca and playing into what this dream girl looks like, walks like and talks like in Franklin's mind. Also, being able to be that vessel that helps communicate those words, whether they be inappropriate or not. (L to R) Claudia Sulewski and James Morosini in "I Love My Dad,' a Magnolia Pictures release. Photo courtesy of Magnolia Pictures.
MF: Did you work closely with Patton because you are basically playing a version of his character?
CS: I think the thing that works so well is that we had time to rehearse our scenes between just normal Becca and Chuck. But I think what makes this film so jarring and interesting is watching two different movies happening at once.
You've got a Rom-Com that's sweet and just hitting all of your kind of heart strings. You're rooting for this couple and having it cut back and forth to this suspense thriller, dare I say horror movie.
I think Patton and I really like having those separate experiences, which allowed for such an interesting edit. So, I almost feel like we didn't want to blend and match too much because we wanted to give that sort of contrast. You feel the same?
PO: Claudia invented dream Becca almost out of whole cloth. I realized later when I watched it cut together, how paranoid I became watching her performance because it made me think of all the times that I was texting with someone and I didn't get the inference because with texting there's no sarcasm mode, so sometimes you will get people's intention incorrect.
So, even watching her scenes in the Rom-Com part creates this incredible sense of paranoia of how many things have I misread? How many texts did I answer incorrectly? Because she creates that. How would you like someone to talk to you? You realize all of this is in my head, and none of this is coming from the other person? She just commits to that so deeply, and it creates this real sense of unease. It's amazing.
MF: Finally, Patton, can you talk about Chuck and Franklin's relationship, how Chuck will go to any lengths to be in his son's life, and working on that dynamic with James Morosini?
PO: We obviously went over scenes a lot, but in our scenes together, and this was really important, James put up a real shield. When he is with other people, his mom, the girl at his therapy group, he tries to reach out to people and be upbeat.
Then with me, you see the defense shields come up after the years of neglect, the years of betrayal, which made it very easy for me to play to because I am being given nothing. Sometimes when your scene partner gives you nothing and the scene needs to be tense, that's the best gift you can have because it makes me have to scramble and reach even harder. It made it very realistic.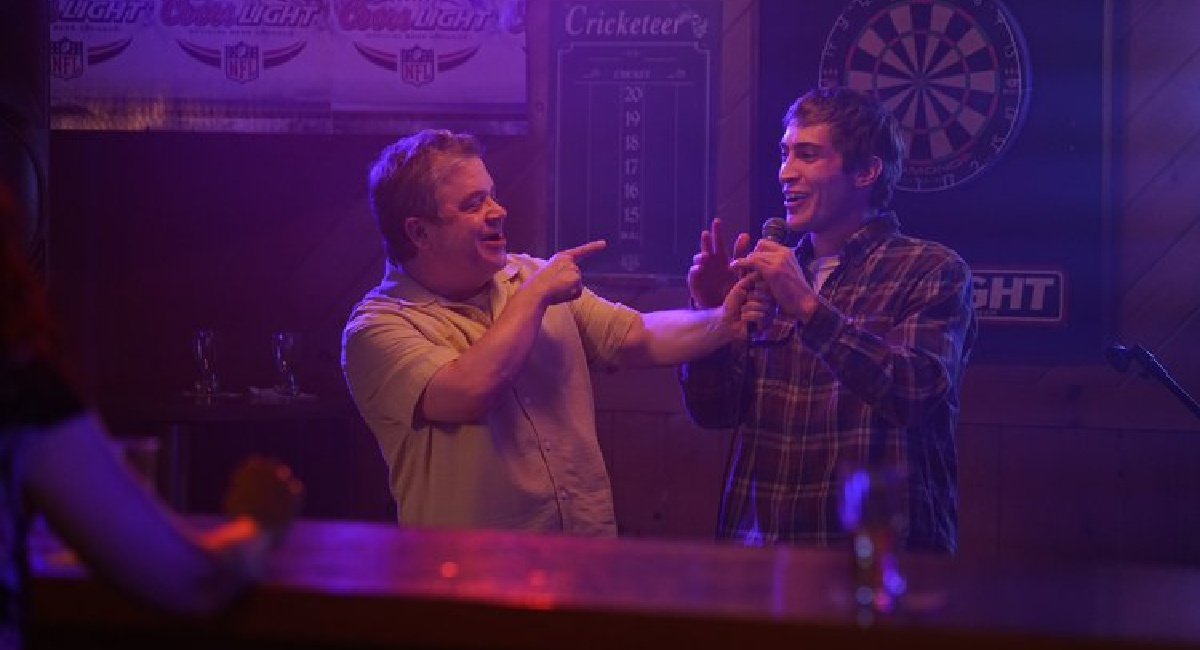 (L to R) Patton Oswalt and James Morosini in "I Love My Dad,' a Magnolia Pictures release. Photo courtesy of Magnolia Pictures.