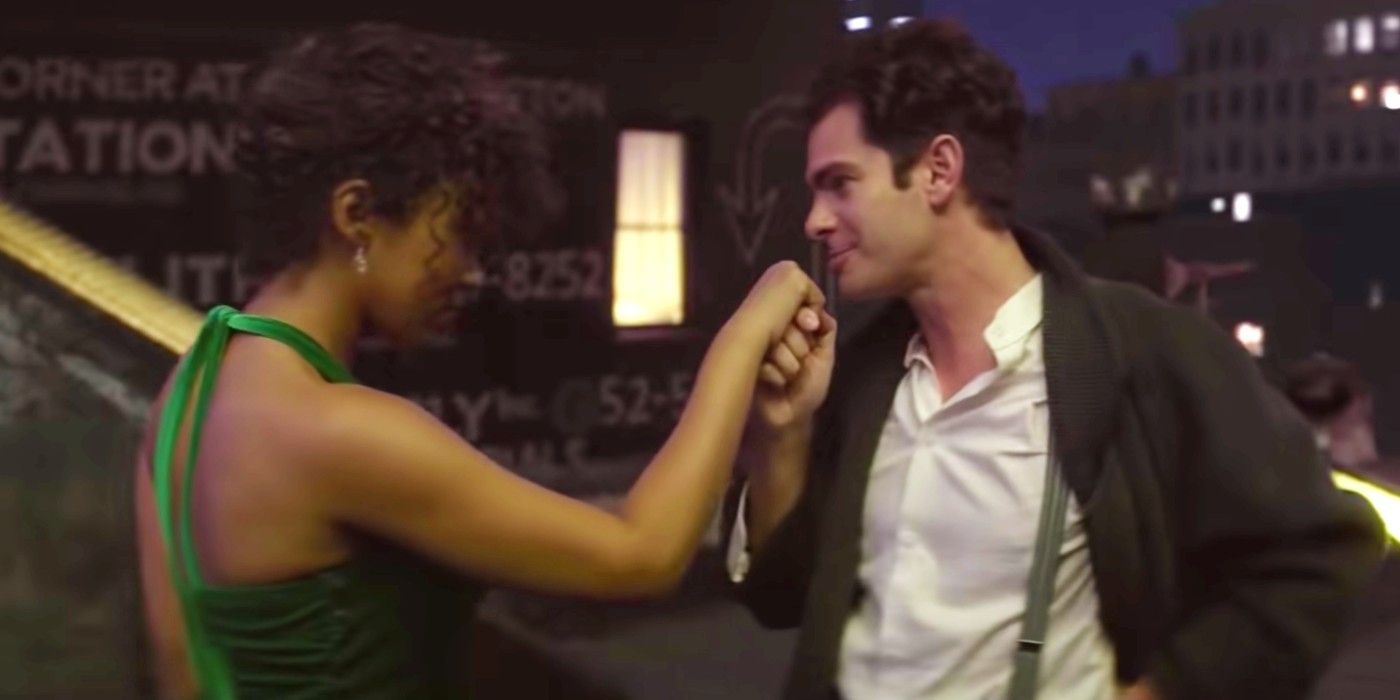 Netflix releases the deleted scene for the song "Green Green Dress" from the musical Tick, Tick…Boom! starring Andrew Garfield and Alexandra Shipp.
A new deleted scene for "Green Green Dress" from Lin-Manuel Miranda's 2021 Academy Award nominated musical Tick, Tick… Boom! has finally been released. In his feature directorial debut, Miranda adapted the musical originally created by Jonathan Larson for the screen with Academy Award nominee Garfield as Jonathan, Alexandra Shipp as his girlfriend Susan, and Tony Award nominee Robin de Jesús as his best friend Michael. The original "Green Green Dress" scene was cut from the film by Miranda, but the song was released on the official soundtrack as a bonus track. 
In an unexpected move, Netflix just dropped the deleted scene between Garfield's Jonathan and Shipp's Susan that features the on-screen performance of "Green Green Dress." The scene takes place early on in the film and follows Jonathan and Susan happily singing and dancing across his building's roof, through his apartment and into his bedroom; much to the annoyance of his roommate Michael. The titular lavish velvet green dress is on full display throughout the song as Susan demands Jonathan's undivided attention for the entirety of the scene. The full deleted scene can be watched below: 
SCREENRANT VIDEO OF THE DAY
Click Here To View The Video On YouTube
Related: Tick Tick Boom True Story: The Real Jonathan Larson, Rent & How Much Happened
Even though it was released in 2021, there is still a lot of excitement for the film as awards season quickly approaches. Garfield recently spoke about the power that the film has as it continues to resonate with young people, specifically young artists. Those young people are the ones who originally heard the bonus track and campaigned to have Netflix release the full scene, which they just proved they had the power to accomplish. It will be interesting to see if Netflix releases any more bonus content from the film ahead of the Academy Awards on March 27 in an attempt to continue generating momentum for the film. 
The musical and film adaptation of Tick, Tick… Boom follows the story of Jonathan, a young theater composer living in New York City who struggles balancing waiting tables and finishing his magnum opus of a musical before his 30th birthday. With pressures from his girlfriend Susan, who wants to continue her artistic pursuits outside the city, his best friend Michael, who's chosen a financially secure career, and a community quickly succumbing to the horrors of the AIDS epidemic, Jonathan must choose what to do with the time that is given to him. 
More: Tick, Tick…Boom! Where To Spot Stephen Sondheim's Secret Cameo
Source: Netflix
Doctor Strange 2's Multiverse Could Make A MCU Reboot Theory Reality
About The Author Shelby Wyatt (7 Articles Published)
Shelby Wyatt has been a news writer for Screen Rant since March 2022. They have been a published writer/photographer for over two years and are more than excited to get into the business of writing entertainment news. They are currently based out of Albuquerque, NM where they live with their partner and the world's cutest corgi mix named Radar. Ever since they were a child they have loved all that's nerdy, geeky and everything in between. One of their biggest dreams is to get to attend the San Diego Comic Con someday.