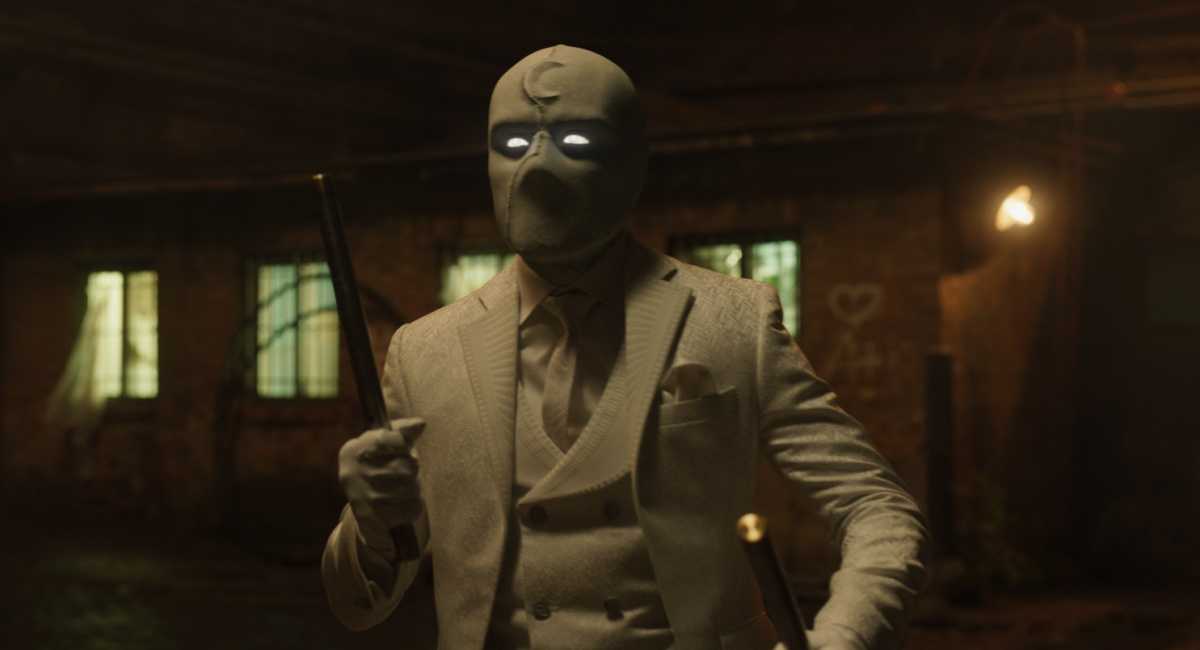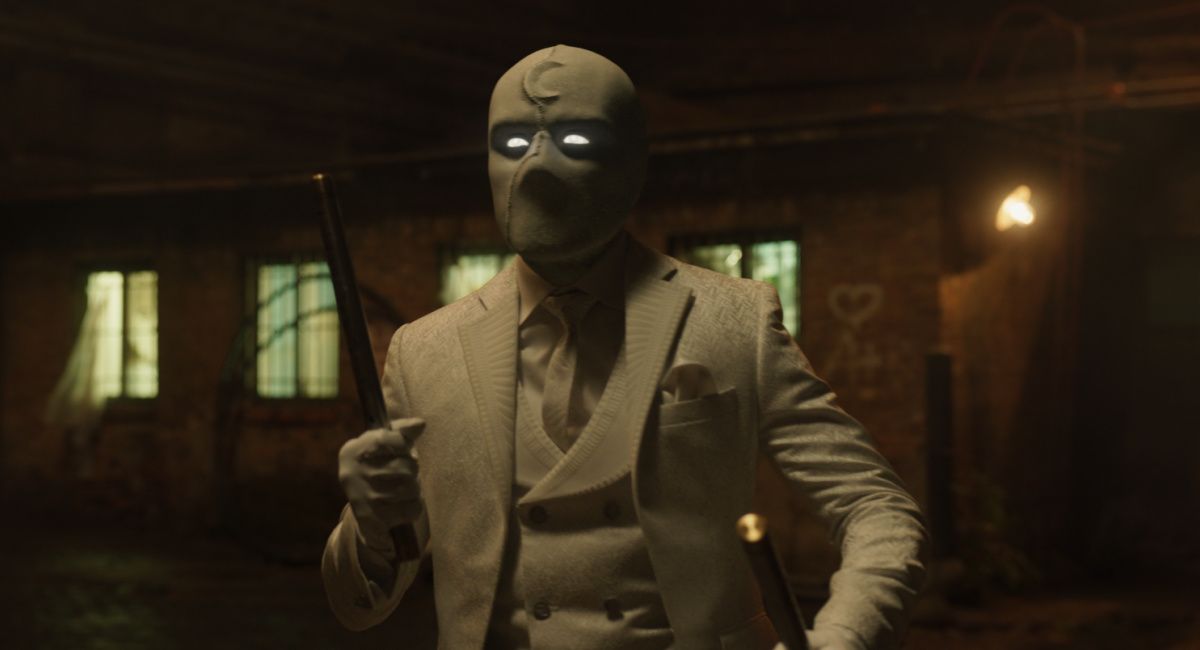 Oscar Isaac as Mr. Knight in Marvel Studios' 'Moon Knight,' exclusively on Disney+. Photo courtesy of Marvel Studios. ©Marvel Studios 2022. All Rights Reserved.
Premiering on Disney+ beginning March 30th is the new Marvel Studios series 'Moon Knight,' which is based on the popular comic book character of the same name. Oscar Isaac ('Dune') stars as Marc Spector, a mercenary with dissociative identity disorder who is granted the powers of an Egyptian moon god, making him a superhero. The result is a series that feels more like a movie and is one of the best origin story projects Marvel Studios has ever produced.
The series begins by introducing us to Steven Grant (Oscar Isaac), a meek gift shop clerk who happens to work at a museum in the Egyptian history wing. Grant has strange visions of an Egyptian god, loses track of large amounts of time, and wakes up unaware of why he is chained to his own bed. Grant soon discovers that he actually shares a body with mercenary Marc Spector (also Isaacs), who has dissociative identity disorder and was chosen by the Egyptian god Khonshu (voiced by F. Murray Abraham) to be the hero Moon Knight.
Grant also meets Spector's wife, Layla El-Faouly (May Calamawy) and discovers that a cult led by Arthur Harrow (Ethan Hawke) are pursuing them to retrieve a valuable artifact that they have in their possession. With the artifact, Harrow will have ultimate power and now Marc and Steven must work together as Moon Knight (or Steven's alter ego – Mr. Knight) if they want to stop the cult leader from taking over the world.
As much as I love Marvel, one of the issues I've had with the Disney+ shows are that even at six to eight episodes, they always feel like they are one or two episodes too long. But as I have screened four out of six of the 'Moon Knight' episodes, I can tell you that the series is tight, and at least in the first four episodes, there is no filler. Moon Knight's story is complicated, and the series benefits from the fact that it has six hours to tell his origin, without feeling rushed or truncated. But it also doesn't waste its time and everything that happens seems necessary and important to telling the character's story. Oscar Isaac as Steven Grant in Marvel Studios' 'Moon Knight,' exclusively on Disney+. Photo by Csaba Aknay. ©Marvel Studios 2022. All Rights Reserved.
In some ways this is the least Marvel project Marvel Studios has produced, certainly on Disney+, but also still feels very much like it takes place in the MCU. The prior Marvel shows were all heavily dipped in MCU folklore with references to S.H.I.E.L.D. or The Blip, for example, and appearances from characters that belong to other Marvel franchises. But while 'Moon Knight' doesn't have any direct MCU references or cameos (at least not in the first four episodes), it still feels very much like a Marvel movie and very much exists in the same universe as 'Doctor Strange' and 'Shang-Chi.'
It's hard enough to introduce one new character to an audience, but with superhero projects you essentially have two characters to introduce, the hero and their alter-ego. With this series, they have the difficulty of introducing not just Marc Spector and Moon Knight, but also Steven Grant and Mr. Knight, with all four characters portrayed by the same actor, Oscar Isaac.
In the comics, Spector is the main character and the focus is usually on him, when it's not on Moon Knight. But the series made the wise choice to focus the series, at least initially, on Steven Grant. Like the audience (at least those not familiar with the source material), Steven has no idea what is going on in his life, and as the audience we get to learn about Marc, Layla, Arthur Harrow, and Khonshu, at the same time Steven does. It was a risky choice, but ultimately works and serves the series well.
The supporting cast is very good, especially Oscar winner F. Murray Abraham who voices Khonshu. May Calamawy creates a strong and really fun character in Marc's wife, Layla. She has great chemistry with Isaac (no matter which character he is playing), and the character takes some odd twists and turns in the later episodes. Ethan Hawke as Arthur Harrow in Marvel Studios' 'Moon Knight.' Photo courtesy of Marvel Studios. ©Marvel Studios 2022. All Rights Reserved.
But a hero is only as strong as the villain he has to battle, and Ethan Hawke creates a very strong villain in Arthur Harrow. In fact, calling him a villain is not even fair as the character would tell you he's the hero of his own story, and Hawke walks that line well. Channeling inspiration from cult leader David Koresh, as well as psychiatrist Carl Jung and even the Dalai Lama, Hawke plays the role in a sympathetic yet commanding way.
But the series' success really hinges on finding an actor that can realistically portray all the aspects of the lead character, and Oscar Isaac fills that role exceedingly well. Isaac really creates two separate characters with Steven and Marc, and he is so good that at times you really believe they are two different people and you forget that the same actor is playing both roles. The series handles the character's DID quite well, and Isaac's performance is extremely believable and sympathetic.
I would also argue that Oscar Isaac is the biggest movie star Marvel has cast in one of their projects since Robert Downey Jr. in 'Iron Man.' Mostly Marvel casts talented actors and makes them stars like in the case of Chris Hemsworth, Chris Pratt, or Chadwick Boseman and even Brie Larson, Paul Rudd and Benedict Cumberbatch's careers benefited greatly from being in Marvel projects. After the 'Star Wars' sequels, 'X-Men: Apocalypse' and 'Dune,' and with an appearance in 'Spider-Man: Across the Spider-Verse (Part One)' coming later this year, Isaac brings all his movie star charm and talent to the series.
In the end, at least for the first four episodes, 'Moon Knight' is an extremely tight, dark, and very enjoyable superhero series that is just as good as any Marvel movie without getting bogged down by the MCU mythology.
'Moon Knight' (first four episodes) receives 4.5 out of 5 stars 'Moon Knight' premieres on Disney+ beginning March 30th.